Pakistan opener Shehzad recounts 'scary' experience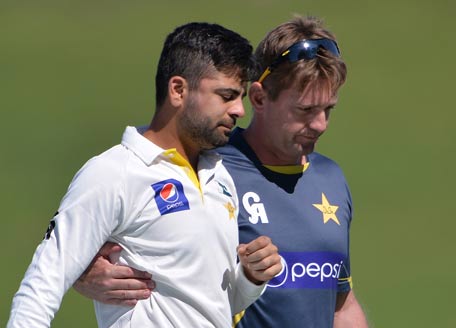 Dashing Pakistan opener Ahmed Shehzad said Monday that his love for playing for his country kept him going after a head injury last year left him scared.

The 23-year-old was hit by New Zealand seamer Corey Anderson's bouncer in the first Test in Abu Dhabi in November last year, barely a fortnight before the tragic death of Australian batsman Phillip Hughes's death.

That death, Shehzad said, left him bewildered and shocked.

"It was scary," Shehzad said. "It left me in fear besides saying thanks to Almighty Allah for saving me."

Shehzad said the injury was still being monitored.

"It will take some time to be like it was before but let's hope it won't happen again and doctors said that it will be monitored for quite sometime," said Shehzad.

Shehzad said the prime thing for him was to play for his country.

"I love my country and the green cap is a pride. My country is the most important thing in my life.

"Cricket is my passion and I never thought about my life doing something else but cricket, and playing for your country is a huge honour for me and will remain whether I'm playing or not."

Shehzad said his family and fans helped him overcome that scare.

"When I was hit and after Hughes's tragic death there was a lot of talk on that and I was sidelined because of the injury. My family, my fans and my fellow players helped me overcome that scary thing."

Shehzad said it had been tough to be sidelined.

"But I was in very good form and wanted to play the T20s against New Zealand and the one-day internationals. I didn't want to miss that much cricket.

"Everyone was talking this and that. I was trying to ignore them but things come in your mind," Shehzad said. "It was tough for me and the family to cope with it."




Follow Emirates 24|7 on Google News.