Pakistan ponder options ahead of India clash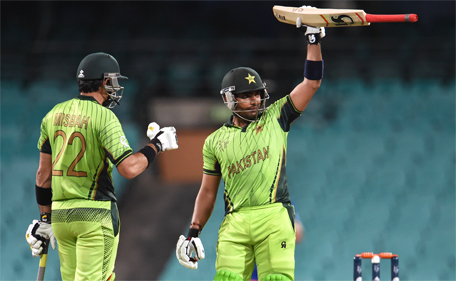 Pakistan have found some momentum ahead of the World Cup but have not settled on their best line-up for their tournament opener against champions India this weekend, coach Waqar Younis said.
Victories over Bangladesh and England this week have given the 1992 champions a real surge of confidence going into Sunday's match in Adelaide against a team they have never beaten at the World Cup.
Follow us on Twitter @E247Sports for exclusive coverage of all the action from Down Under https://twitter.com/E247Sports

"We needed momentum, we didn't really play any really good cricket in the recent past," Waqar told reporters after the four-wicket victory over England.

"So the momentum and the confidence we got from these last two games will definitely help.

"India has always been a tough opponent so we're not going to take it easy. We're going to make sure we wake up on that morning in a positive frame of mind and look to win this time."

Pakistan lost several players to injury and suspension for the tournament but Waqar said his main problem in finding the right balance was their lack of all-rounders, barring 34-year-old Shahid Afridi.

"It's difficult to have the right combination, you want to have seven batters, sometimes you want to have five bowlers so sometimes something has got to give," he said.

"I think we are going to sit down in the next three days and see what's going to give. We don't really have that 'X-factor' of all-rounder, maybe a batsman who can bowl fast.

"But we've got Afridi, we've got to really trust him, he's in good nick and batting well, so still three more days to find the best team to play the Indians."

While Pakistan's fielding was occasionally sloppy against England, Ehsan Adil and fellow seamer Sohail Khan showed enough to suggest the inexperienced pace attack will have some bite.

"They bowled really disciplined which is the key, the pitches here in Australia are a little conducive for the faster bowlers so hopefully these boys will learn a lot from this tournament," said Waqar, one of the finest pace bowlers to have played. "They will hopefully deliver as well."

Leg-spinner Yasir Shah, who took three for 45, also confirmed he could be as much of a threat in the 50-over format as he has been in tests.

The unpredictable side rarely go into a tournament as favourites, although they did win the World Cup the last time it was held in Australia and New Zealand.

"The beauty of cricket is what happened in '92 could happen again," Waqar said. "Some are good form, some are just getting into the groove, but it could be anyone's World Cup."

Struggling Younis

Younis on Thursday backed senior batsman Younis Khan to return to form in the World Cup despite a worrying slump.

The 37-year-old has managed just 1, 7, 9, 11, 25 and 19 in the six matches Pakistan have played since arriving in New Zealand last month.

Younis was not in the selectors' planning for the World Cup but the veteran hit a hundred in the 3-2 defeat against New Zealand in the United Arab Emirates in November last year and forced his way into the 15-man squad.

"I think the pitches in Australia and New Zealand are challenging and initially batsmen struggle here but he is a senior batsman. We need him to get into the right kind of form soon. I am confident that he will come into that soon," said Waqar.

If Pakistan persist with Younis they have to drop either of their two talented youngsters, Umar Akmal or Sohaib Maqsood.

It will be a tough decision as Younis has passed 50 just twice in his three previous World Cups.

Pakistan lost both their warm-up games before their recent New Zealand series and then were defeated in both one-day internationals against the Black Caps.

The big one, of course, is Sunday's sell-out World Cup blockbuster against India in Adelaide.

But Waqar said wins in the World Cup warm-up games over Bangladesh and England this week will give his team much-needed momentum, without reading too much into it.

"Look, these are just warm-up games and one must not draw conclusions from here. But we must take positives, they have given us the right kind of momentum."

Waqar described the World Cup as an "open" competition.

"You can judge this World Cup to be very open, some teams are in good form, some are getting into the groove. So, it can be anybody's cup," said the Pakistan coach.

"Cricket is such a game. What happened in 1992 (Pakistan winning the World Cup) can happen again. That's the beauty of cricket."

Follow Emirates 24|7 on Google News.