Pakistan 'ready' for Australia or New Zealand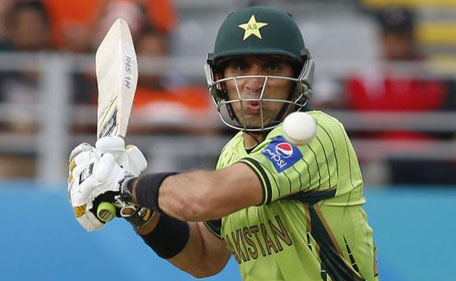 Pakistan are ready to take on the big guns in the knockout stage of the World Cup in Australia and New Zealand, their captain Misbah-ul-Haq said on Tuesday.

"I have told the players there are no more second chances for us in the remaining matches of the tournament and we go in for every match having burnt our boats and with a fearless attitude," Misbah said.

Pakistan, with six points and a superior run-rate, play Ireland in their last group match on Sunday and are in a three-way race to qualify for the last eight along with with Ireland and West Indies.
Follow us on Twitter @E247Sports for exclusive coverage of all the action from Down Under

"To win matches in a big tournament like the World Cup your bowling must fire and the good thing for us is that all four of our pace bowlers delivered in our last three games," Misbah added.

Misbah, who has been in charge of the Test side since late 2010 and the one-day team since mid-2011, said Pakistan'sfocus was on beating Ireland in Adelaide.

"We are ready to play either New Zealand or Australia in the quarter-finals and we are quietly confident now we can beat any team," he said.

"I have told the players to be mentally prepared to play without fear and be ready to cope with the pressures of a knockout match," he said. Misbah, who has scored four half centuries in five World Cup matches, said the only area of concern for Pakistan remained the form of the middle-order batsmen.

"It is time for young players like Umar Akmal, Haris Sohail, Sohaib Maqsood to grab their opportunities in a big event like the World Cup and become household names in the world of cricket," he said.

Misbah, 40, said it was hard captaining the side because of the criticism the team received back home.

"We all want to do well for Pakistan but at times some of the criticism and tongue lashing on the channels is below the belt and its affects the players," he said. "It adds to the pressure on them.

"Cricket is a big sport in Pakistan and it is everyone's duty to keep it there and ensure the criticism does not get out of hand and put people off the game," he added.
Follow Emirates 24|7 on Google News.