Pakistan show how dangerous they can be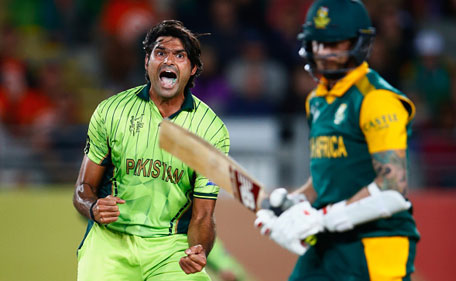 Pakistan made a winning return on Saturday to the venue where they defeated New Zealand in their 1992 cricket World Cup semi-final before going on to win the tournament for the first and only time.

After a shaky start to the Cup, including a crushing defeat by West Indies in Christchurch, Pakistan showed enough at Eden Park on Saturday in their 29-run win over pre-tournament favourites South Africa to demonstrate what dangerous opponents they can be.

The match proved a triumph for Sarfraz Ahmed who came into the team in the dual role of opening batsman and wicketkeeper.

Follow us on Twitter @E247Sports for exclusive coverage of all the action from Down Under

Sarfraz took three sixes of a JP Duminy over before he was run out for 49 attempting the second run which would have taken him to his half-century.

He then equalled the one-day world record by holding six catches when South Africa batted.

"I am very thankful to the world and Pakistan for this opportunity. I want to thank all those who supported me, including my family. This is my World Cup debut match," Sarfraz said in Urdu after he was chosen as man-of-the-match.

"Beating South Africa, who are playing really good cricket, after that everybody believes now, the players, the team, can take a lot of confidence from it. When runs are on the board, it is always pressure on the opposition," added Pakistan captain Misbah-ul-Haq.

Pakistan coach Waqar Younis told a news conference he had always known how good Sarfraz was and added his team had started to play the good, aggressive cricket it had been known for in the past.

"We have started finding the right combinations, people have started believing in themselves. They have started trusting their abilities. I am very thrilled but there is a long way to go," he said.

Pakistan's batting was again fragile and their fielding often erratic although the catching was sound. But their fast bowlers rose to the occasion and the three-left armers Mohammad Irfan, Wahab Riaz and Rahat Ali each took three wickets.

"They bowled with real pace and purpose," said Waqar, a former master of the fast bowling art. "We knew we had to get them out to win this game. Teams who are playing aggressively have been more successful."

Asked if the present side could emulate Imran Khan's 1992 side, who had also made a bad start to the tournament, Waqar said: "Look, I hope, I hope that it turns out to be the same. But we really have to work hard. World Cup are pressure games.

"In 92 Pakistan lost early games, they came back very strongly. They had they had the belief, Imran Khan had the belief and I believe and I hope that that belief is coming into our dressing room."


Follow Emirates 24|7 on Google News.