Pakistan target first World Cup win against India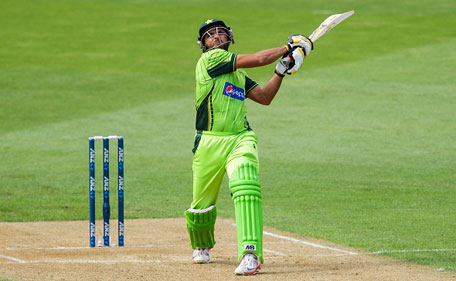 Pakistan have the best chance to end their World Cup jinx against India who are under pressure despite being favourites to win Sunday's clash in Adelaide.

The Adelaide Oval has traditionally been on the slower side comparatively and could produce a high-scoring thriller.

India have won every time the two south Asian giants clashed in the World Cup but Pakistan are determined to rewrite history.

In a tournament where co-hosts Australia and New Zealand along with South Africa have been installed as the early favourites, the onus is on defending champions India to prove the pundits wrong.

Pakistan have not won a World Cup match against India in five attempts since their first clash in the 1992 event, also held in Australia and New Zealand.

However, India will be wary of unpredictable Pakistan renowned to fight like cornered tigers when they have their backs to the wall.

India's run-up to the World Cup has been far from impressive, failing to win a single match during the tri-series involving Australia and England.

Pakistan can take heart from the fact that Imran Khan inspired his team to their maiden World Cup triumph on Australian soil 23 years ago.

"I don't know why we lost all those games, maybe all those teams failed to handle the pressure in the key game," said Pakistan captain Misbah ul Haq.

Pakistan went down four times while chasing - in 1992, 1996, 1999 and 2011.

The only time India chased down a target was at Centurion in the 2003 edition.

"I am confident that this time we will change history and win this crucial game," said talismanic Pakistan allrounder Shahid Afridi, who was captain when they lost in the semi-final at Mohali in the 2011 World Cup.

"If we win we will get a lift for the remainder of the World Cup and all the players and the team management are eager for the win," said Afridi, who was also part of the team in the 1999 and 2003 matches against India.

Pakistan also failed to beat India in their four World Twenty20 matches - twice in the inaugural edition in 2007 (group match and final) and then again in 2012 and 2014.

Their last win over their arch-rivals in a major ICC event was in the Champions Trophy in South Africa in 2009.

The lack of teeth in bowling and the form of star batsman Virat Kohli has been a concern for India though he has the ability to rise to the occasion.

Pakistan's batting has not been consistent but giant fast bowler Mohammad Irfan gives them that X-factor in the absence of leading spinner Saeed Ajmal.

"I have done well against India before so I am confident of doing well again," said Irfan.

Even former Indian captain Rahul Dravid earmarked Irfan as Pakistan's main weapon though he felt MS Dhoni's side were favourites for the match because they were better acclimatised to conditions in Australia.

"I think India would start off as favourites because India has been in Australia for the Test series and ODIs and understand the conditions better than Pakistan," Dravid said during an interview with ESPNcricinfo.

Retired great Sachin Tendulkar echoed the sentiments of many that Sunday's World Cup game against Pakistan is bigger than the final.

"The Pakistan game was a high pressure game compared to the final. It's a different atmosphere altogether," Tendulkar said in an interview on Headlines Today news channel about India's win over its arch rival in the 2011 semifinal at Mohali in which he scored a match-winning 85.

"A Pakistan game is not only about that day. I remember 2003, when we played Pakistan at Centurion, my friends had started talking about it 10 months before that," said Tendulkar, who finished with a record 15,921 runs and 51 centuries in 200 Tests and 18,426 runs with 49 centuries in 463 one-day internationals.

Indian Prime Minister Narendra Modi also weighed in to conduct cricket diplomacy by calling his Pakistani counterpart on Friday to wish his cricket team luck.

Modi said "cricket connects people in our region and promotes goodwill" after speaking with Prime Minister Nawaz Sharif and other South Asian leaders whose country's teams are playing in the World Cup starting Saturday.

"Spoke to President @ashrafghani, PM Sheikh Hasina, PM Nawaz Sharif & President Sirisena. Conveyed my best wishes for the Cricket World Cup," Modi also tweeted.

"Hope players from SAARC region play with passion & bring laurels to the region," he said, referring to the South Asian Association for Regional Cooperation.

Millions of India and Pakistan fans are expected to watch Sunday's clash on television, while thousands of others are set to flock to the Adelaide Oval in Australia tickets for which sold out within 20 minutes.
Follow us on Twitter @E247Sports for exclusive coverage of all the action from Down Under https://twitter.com/E247Sports
Follow Emirates 24|7 on Google News.