Pakistan top-order batsmen 'yet to fire'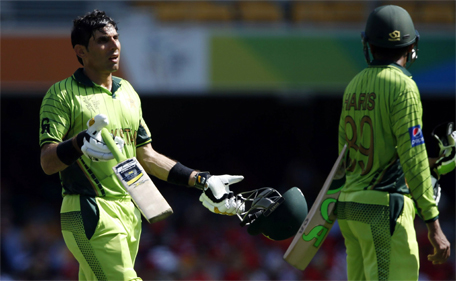 Pakistan's top order should show "more spine" if they are to progress in the World Cup, the team's batting coach Grant Flower said.

The 1992 champions will play Ireland on Sunday in Pool B to decide a three-way battle for a spot in the quarter finals.

West Indies, who take on United Arab Emirates, the same day are the third team in contention for the knockout stage.
Follow us on Twitter @E247Sports for exclusive coverage of all the action from Down Under

Former Zimbabwe batsman Flower, who was appointed to the Pakistan role last year, said the best was yet to come from the team's batsmen.

"They are yet to fire and I would like to think their best is still to come and if not then we wouldn't go too much further into the tournament," Flower told Pakistani reporters in Adelaide on Wednesday.

"I expect the top order to show some more spine."

Pakistan have crossed the score of 300 only against UAE in the tournament which has seen totals in excess of 400 breached thrice.

Captain Misbah-ul-Haq, who bats in the middle order, is their top scorer with four half centuries in five matches.

The team have been rescued by their four-man pace attack, who have successfully defended low totals in three matches, including an exciting win over South Africa last week.

Flower said that players like Umar Akmal and Sohaib Maqsood, who have failed to get big scores, needed to do more to showcase their talent.

"They showed glimpses of their talent but for such good players they are they need to show more," Flower, who played 67 Tests and 221 ODIs for Zimbabwe, said.

"They are aware that they can bat a lot better than they have.

"The signs were there against UAE and they played some positive cricket against a good South African attack."
Follow Emirates 24|7 on Google News.