Pakistanis, Indians, Sri Lankans... All bat for UAE in Cricket World Cup opener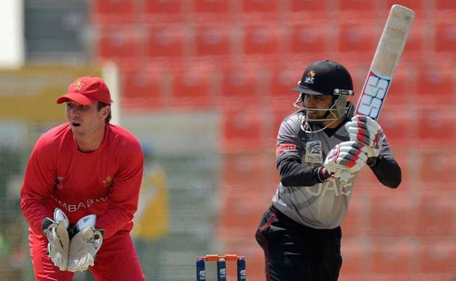 Indian, Pakistan and Sri Lankan cricket fans will be rooting for UAE who are making their first appearance in the World Cup since 1996 when they take on Zimbabwe on Thursday.

The expatriate community are united in supporting their adopted home country with many gearing up to watch the match which starts at 2.00am despite it being a working day.

The UAE team composed largely of expatriates and semi-professionals beat the Netherlands by seven wickets for their only win last time round.
Follow us on Twitter @E247Sports for exclusive coverage of all the action from Down Under

But they come into the current tournament with an experienced squad - captain Mohammad Tauqir and leading batsman Khurram Khan share the distinction of being the World Cup's oldest players at 43.

They have a solid preparation under the guidance of former Pakistan fast bowler Aaqib Javed, a World Cup winner in 1992.

UAE's hopes rest heavily on the shoulders of left-hander Khurram Khan, who was captain of the side for seven years.

Khurram's colleagues and former team mates with him at Fly Emirates are expecting him to fire in the tournament.

"I'm sending him messages daily. They have a 50-50 chance of doing well against Zimbabwe who bowled and fielded well against South Africa," said Yasin Sikander, an Indian, who has played alongside Khurram and Amjad.

A former UAE national player Fahad Usman believes they will not be under pressure because they have experience of playing in the World Twenty20.

"UAE has a very good side. Aaqib (Javed) has been working a lot with the boys. Pressure is not new to us," said Usman, a Pakistani, who represented UAE between 2002 and 2007 playing against Sri Lanka and India in the Asia Cup.

"It will be an even match although Zimbabwe has more exposure. UAE has the capability to perform and do well. I expect Khurram to do wonders," said Usman, a Pakistani, who played under Khan for Fly Emirates and UAE.

A Sri Lankan fan Neville Fernando said he did not know much about UAE team but has been following Sri Lanka playing New Zealand and the highly-charged Indo-Pak clash.

Deepal Rajaguru, a Sri Lankan, said: "It is a proud moment to be competing with the big boys at this level. It is a great honour."

Another Sri Lankan Mahendra Perera felt UAE "have a long way to go but it will be a big achievement if they can push it to the next round."

"UAE definitely have talent but they are not professional cricketers. I feel the lack of exposure at this level will be crucial," said Amal Karunaratne, a Sri Lankan cricketer who plays in the domestic circuit.

"I will be rooting for UAE and hope they win against Zimbabwe. To have qualified to play in the World Cup itself is a major achievement," he said.

Zimbabwe who scored a shock win over Sri Lanka in a warm-up game, come off a 62-run loss to South Africa in their opening Pool B match, aim to revive their Cup campaign with a win at Saxton Oval against the minnows.

The difference between the teams in experience is epitomised by the respective captains.

Zimbabwe's Elton Chigumbura has played 170 one-day internationals, considerably more than the entire UAE squad.

Tauqir has played only five official ODIs since his debut 11 years ago, most recently in its win over fellow World Cup qualifier Afghanistan in November.

However, UAE lost narrowly to Afghanistan and were beaten heavily by Australia in their two informal warm-up matches ahead of the World Cup but showed potential by finishing second behind Scotland in the qualifying tournament in New Zealand in October.

Tauqir expects his players, many whom have to balance their cricket careers with fulltime jobs, to savour a rare opportunity to play on a big stage.

"It's an honour for me and for the whole team to represent the country," he said. "It's long back we last played World Cup. Everybody is excited and looking forward to participating in this event."

Tauqir said his players, being "mature characters", could "handle a pressure situation and be calm on the ground, don't get over-emotional."

Chigumbura said Zimbabwe took a lot out of a competitive opening match against South Africa but now had to ensure it asserted its superiority over less-experienced teams.

"Every team that is here is capable of winning games," he said. "We have to take every game seriously and ... make sure that when you get into good winning position you are ruthless."

UAE Squad: Mohammad Tauqir (captain), Khurram Khan, Amjad Ali, Amjad Javed, Andri Berenger, Fahad Alhashmi, Manjula Guruge, Kamran Shazad, Krishna Chandran, Mohammad Naveed, Nasir Aziz, Swapnil Patil, Rohan Mustafa, Saqlain Haider, Shaiman Anwar.

Follow us on Twitter @E247Sports for exclusive coverage of all the action from Down Under
Follow Emirates 24|7 on Google News.