Passionate fans give Bangladesh a lift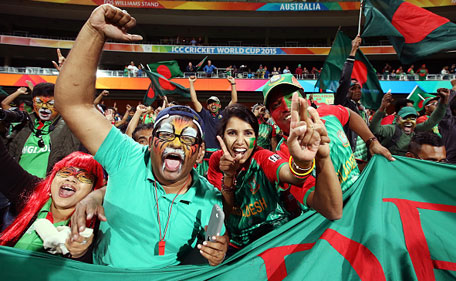 Bangladesh may not have the best cricket team in the world but the support they receive from fans around the world will leave many established nations envious.

Bangladeshi supporters were outnumbered during Monday's key World Cup match against England at the Adelaide Oval, but they made their presence felt by deafening cheers for their team.

Every run was applauded loudly from flag-waving crowds wearing the Bangladeshi team colours of red and green, while fours and sixes were celebrated wildly.
Follow us on Twitter @E247Sports for exclusive coverage of all the action from Down Under

"We will win the World Cup....some day. Till then we must support our team all the way," said Nazrul Ahmed, a Melbourne-based shopkeeper who had travelled overnight to watch the match in Adelaide.

Skipper Mashrafe Mortaza was overwhelmed by the reception his team had received from supporters during this World Cup in both Australia and New Zealand.

"We are used to seeing 30,000 to 35,000 people at our matches at home, but having people turn out in large numbers here is just amazing," he said.

"I hope we can live up to their faith in us."

Failure attracts contempt and fans are known to desert their favourite sporting teams during a losing streak, but Bangladeshi cricketers have never faced that problem.

They went without a win in Test or one-day matches for five years from 1999 to 2004, but in that period cricket replaced football as the South Asian nation's favourite sport.

"Nothing unites Bangladesh like cricket does," said Dhaka-based journalist Azad Majumdar. "There is hardly anything else people at home can look up to."

Another reporter Sanjoy Saha added: "Unlike India, there are no film stars to follow. Cricketers have to be the biggest heroes."

Since gaining Test status in 2000, Bangladesh have lost 70 of their 88 five-day matches. Their seven wins include just two against an established side, a 2-0 series win over an under-strength West Indies in 2009.

Bangladesh's one-day record is also uninspiring - 206 defeats in 297 matches - but their 87 wins have included some fine victories over Australia, India, Pakistan and England.

On their World Cup debut in 1999, Bangladesh defeated eventual finalists Pakistan in the league stage and in 2007 knocked India out to qualify for the second round for the first time.

They stunned world champions Australia in a one-dayer in England in Cardiff in 2005 and beat England by two wickets in Chittagong during the previous World Cup.

Those victories were celebrated at home as if a major tournament had been won and added a new dimension to the aura around the national team.

But defeats also test the patience of even the most ardent supporters, like it happened during the 2011 World Cup when Bangladesh tumbled to their lowest one-day total of 58 against the West Indies in Dhaka.

Angry fans threw stones at the West Indies team bus returning from the stadium but it later emerged that the crowd had mistaken it to be the bus carrying the Bangladeshi players.

Fans, generally known to be well-behaved, tendered an apology to the West Indies squad with placards outside the team's hotel.

A robust domestic 50-overs-a-side league has attracted a galaxy of international stars like England's Eoin Morgan, Moeen Ali and Ravi Bopara, but fans wait patiently for one of their own to shine on the world stage.


Follow Emirates 24|7 on Google News.