Patience pays off for Pakistan-born UAE batting star Khurram Khan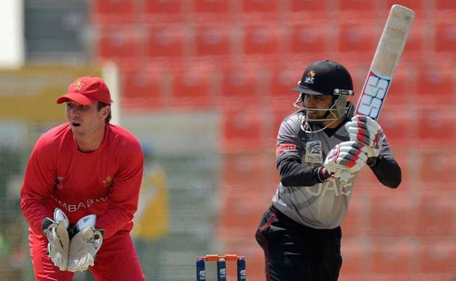 Cricket has always been a sport that has rewarded patience, even in the souped-up version of the one-day game, but few players at the World Cup have had to wait longer for their big break than the evergreen United Arab Emirates batsman Khurram Khan.

At 43, he and UAE captain Mohammad Tauqir are the oldest players in the tournament.

Unlike most of the teams at the World Cup, the UAE side is made up of amateur players, who fit their cricket training and matches around their full-time jobs.

Opportunities are few and far between and only the most determined and dedicated survive.

Khurram, who works as a flight purser for Emirates airlines, has often flirted with the idea of retiring but the lure of playing at the World Cup proved irresistible.

There were no guarantees the UAE would qualify this time. The only previous time the UAE had appeared at the World Cup was almost two decades ago in 1996, but Khurram rolled the dice and pushed on, keeping himself fit by doing push-ups on long-haul flights when he wasn't attending to passengers.

Born in Pakistan, he moved to UAE in 1999 and made his ODI debut for his adopted country in 2004. By the start of 2014, he'd only played four fully recognised ODI matches, such are the limited chances for countries with associate status.

Unperturbed, he pressed on and his perseverance finally paid off when UAE qualified for the 2015 World Cup, largely thanks to his contributions with the bat.

Khurram was the leading runscorer at the World Cup qualifying tournament in New Zealand, piling up 581 runs at an average of 72.62.

Then in November, he became the oldest player to score a ODI hundred, making an unbeaten 132 against Afghanistan, and moving to the top of a distinguished list of oldest centurions that includes Sanath Jayasuriya, Geoff Boycott and Sachin Tendulkar.

Despite having captained UAE for the last decade, the Emirates Cricket Board wanted a locally-born player to skipper the side at the World Cup, so demoted to Khurram to vice-captain and gave Tauqir the top job.

Unfazed, Khurram said he was just happy to have realised his lifelong dream by getting the chance to compete at cricket's greatest spectacle.

"I understand that. I am just happy to be here," he told reporters when he arrived in Australia.

"I am having the best time of my life, to be honest. Cricketing-wise, if you see my performance the last couple of years, it is amazing and I am enjoying every moment of it."
Follow us on Twitter @E247Sports for exclusive coverage of all the action from Down Under

Follow Emirates 24|7 on Google News.