Scotland kick out Pakistan-born Haq for racial tweet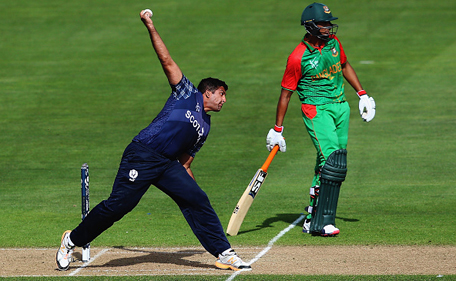 Scotland all-rounder Majid Haq has been thrown out of the World Cup for posting a racial tweet after being dropped from Wednesday's match against Sri Lanka in Hobart.

Haq, Scotland's leading ODI bowler with 60 wickets and three half-centuries to his name, had played in his team's four previous matches taking just three wickets and making a top-score of 31 against Afghanistan.

"Always tougher when your in the minority!! #colour #race" tweeted 32-year-old Haq, who was born in Scotland and is of Pakistani descent.
Follow us on Twitter @E247Sports for exclusive coverage of all the action from Down Under

The post was later deleted.

"Following a breach of Cricket Scotland's internal code of conduct, international team member, Majid Haq, is travelling home from the ICC World Cup," a statement from the Scottish board said.

"No further statement will be issued until internal processes have been completed in due course."

Scotland, who have lost all their five matches so far, play Australia in their last league match in Hobart on Saturday.


Follow Emirates 24|7 on Google News.