Scotland prepare for Malinga with Collingwood throwdowns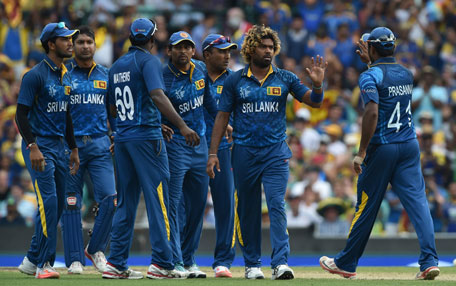 Scotland hope to tackle Sri Lanka's sling-arm fast bowler Lasith Malinga in the World Cup on Wednesday by practising with Paul Collingwood's throwdowns at the nets, according to captain Preston Mommsen.

Former England all-rounder Collingwood, who is working with the non-Test side at the tournament, gave the Scottish batsmen a taste of what to expect by simulating Malinga's unique action at training.

"We've got Colly with us who has played a lot of cricket against Malinga," Mommsen said ahead of the Pool A fixture at Hobart's Bellerive Oval.

"He has worked out his action and throws to us at the nets as if Malinga was bowling.

"So that way we have been able to simulate Malinga's action. Obviously, it's something different and something that we've done some fair preparation on, but we're expecting to take our time against him."

The match holds only academic interest as Sri Lanka have already qualified for the quarter-finals and Scotland are out of the race after losing their first four matches.

But Mommsen said the team was excited at the two upcoming games in Hobart -- against Sri Lanka on Wednesday and Australia on Saturday -- which gives them a chance to play against established Test nations.

"We don't get the opportunity to play against Full Members (of the International Cricket Council) very often, so to have two in the space of a few days is something very exciting for all of us," he said.

"Obviously, results-wise it has not been the most perfect World Cup for us, but we've got two great opportunities and that's the way we're looking at it."

Scotland have yet to win a World Cup match, with this the third edition in which they've competed, but Mommsen said lack of experience against top teams had proved to be a handicap.

"We had a definite goal of winning at least one game in this World Cup, but this is something we have not yet been able to do," he said.

"We played some very good cricket at times and have also been in winning positions, but through lack of experience we have not been able to win those games.

"At the moment, we are still excited at the opportunity that the next two games presents."

Sri Lanka have played Scotland just once in a one-day international, winning easily by 183 runs in Edinburgh in July 2011.

Mommsen said Bangladesh's stunning win over England in Adelaide on Monday, which knocked Eoin Morgan's side out of the tournament, would inspire his team.

"It is something very exciting for us because we know that if we do hit the straps a hundred percent, we are capable of turning over big teams," he said.

"We certainly do take heart from that performance by Bangladesh last night.

"It can only be a good thing for world cricket that teams like Bangladesh and Ireland are not just competing but winning these sort of games," Mommsen added.

"For Bangladesh to qualify for the quarter-finals, I think that's very deserving."
Follow Emirates 24|7 on Google News.