Sri Lanka skipper begs Sangakkara not to quit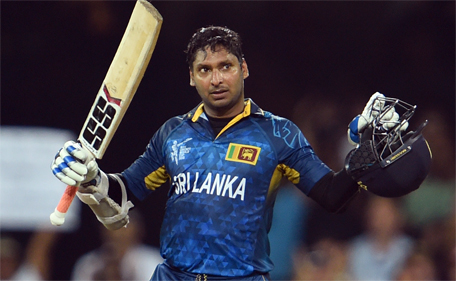 Sri Lanka captain Angelo Mathews said Wednesday that he has gone down on his knees to beg record-breaking batsman Kumar Sangakkara not to quit after the World Cup.

Sangakkara, 37, will call time on his ODI career at the end of the tournament but he is still in a rich vein of form - on Wednesday he became the first batsman to score four consecutive one-day centuries as Sri Lanka thrashed Scotland by 148 runs.

The left-hander hit 124 off 95 balls and 38-year-old Tillakaratne Dilshan made 104 as the Islanders piled up 363 for nine and then bowled Scotland out for 215 in the Pool A match at the Bellerive Oval.
Follow us on Twitter @E247Sports for exclusive coverage of all the action from Down Under

Sangakkara had also made 105 not out against Bangladesh, an unbeaten 117 against England and 104 against Australia.

He is also the leading scorer in the ongoing tournament with 496 runs from six games.

If that wasn't enough, Sangakkara also took two catches to overtake Adam Gilchrist as the most successful World Cup wicket-keeper with 54 dismissals. The Australian had 52 victims to his name.

"I've been on my knees asking Kumar not to retire but we have to respect his wishes because we are thankful for all the times he has represented the country," said Mathews.

The skipper added: "The boys played really well and credit should go to Dilshan and Sangakkara, they are getting better and better with age.

"We have to take one game at a time and play positive cricket. If we can improve our bowling and fielding, it will be great but the batters have posted 300 four times in a row. That is never easy."

Despite his form, Sangakkara, who has played 403 ODIs and made over 14,000 runs, insisted that there will be no going back on his decision.

"Retirement is not about form, it is about time and place and whether it feels right. It is never about whether you can play or not," he said.

Sri Lanka had already qualified for the quarter-finals and will likely face South Africa in the last eight while Scotland have now lost all five matches.

But the Scots made a fight of it with skipper Preston Mommsen (60) and Freddie Coleman (70) putting on 118 for the fourth wicket.

"Today was a huge learning experience, especially watching some of the best batsmen in the world. We saw how they kept calm under pressure, so we could learn a lot," said Mommsen.

"Sangakkara is definitely No. 1 in terms of the players we have had to play against."


Follow Emirates 24|7 on Google News.