UAE's Berenger dreams of playing for Sri Lanka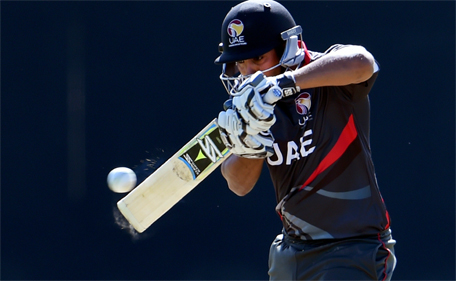 UAE cricketer Andri Berenger has not given up on his dream of playing for Sri Lanka again as he seeks to shine on the biggest stage.

"My personal goal is to get a ton in the World Cup. After that if I get a call-up back to Sri Lanka, I might go," said the 22 year-old opening batsman who represented Sri Lanka at the Youth World Cup five years ago.

Having been born and brought up in the UAE to long-time Sri Lankan expats, as destiny would have Berenger got an opportunity to serve his country of birth in the ongoing World Cup.
Follow us on Twitter @E247Sports for exclusive coverage of all the action from Down Under

"I always dreamed of playing in the World Cup but playing for UAE is a different thing. It's a great feeling no matter where you are playing. But I still have dreams of playing for Sri Lanka since I'm only 22," said Berenger without pulling any punches.

UAE qualified to play in only their second World Cup after 19 years and with the International Cricket Council planning to reduce the teams to 10 at the next edition, there is very little hope for players with ambitions like Berenger.

An attacking right-hand batsman, Berenger showed his pedigree by scoring two half centuries during the one-day series against Afghanistan last year including a highest score of 66.

He is determined to make a point in the World Cup Down Under showing his tough qualities after being struck on the helmet while scoring a nervy 22 in the opening match against Zimbabwe.

Son of a former Sri Lanka boxing champion Kenham Berenger, Andri is inspired by his father's positive attribute in life.

"My role model is my father. He is very positive. I couldn't be a boxer because my father wanted me to play cricket," said Andri in an interview with Emirates 24|7 before his departure for the World Cup.

He is relishing the prospect of playing against world champions India.

"Playing against Virat Kohli and MS Dhoni... it is a totally good feeling," he said.

Berenger strongly believes UAE can advance to the next round.

"It would also be brilliant to meet Sri Lanka. Another thing would be icing on the cake if I get runs against them. It will be a great opening for me to go back to Sri Lanka," said Berenger wistfully.

"We have mentally prepared in last four-six months. We have played some wonderful series. We had some wonderful coaches such as Paul Collingwood, Paul Franks and head coach Aaqib Javed. We have a good set up and it's about delivering the goods," he said.

UAE face Ireland in a crunch Pool B clash at The Gabba on Wednesday.
Follow Emirates 24|7 on Google News.