World Cup contenders: South Africa, co-hosts or Pakistan?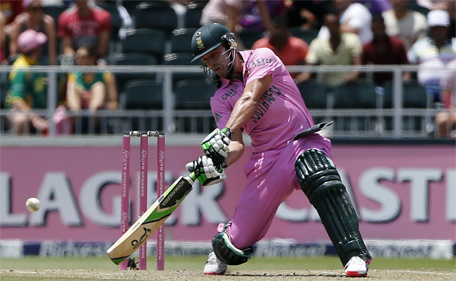 With strong hosts expected to challenge, a highly-fancied South Africa facing their demons and a sprawling format certain to generate criticism, the cricket World Cup's return to Australia and New Zealand is a case of deja vu in many ways.

Since the trans-Tasman neighbours first co-hosted in 1992, the one-day game's global showpiece has morphed into a commercial behemoth and a television event followed by millions around the world.

Familiar themes endure, however, and many of the 14 teams competing at the Feb. 14-March 29 have arrived in the Antipodes with the same baggage as World Cups past.

Boasting a world class attack, a fearless leader in AB de Villiers and an embarrassment of batting riches, South Africa have a gilt-edged chance to break their duck in the tournament.

None of de Villiers' squad was party to the semi-final disaster at the 1999 tournament in Britain or their first-round exit in 2003 on home soil.

The 'chokers' tag is still irritating, though, said retired skipper Graeme Smith.

"Unfortunately it's something they'll never get rid of until we go on and win a tournament," he told the ESPNcricinfo website. "We made some stupid mistakes."

Australia, far and away the most successful team at the World Cup with four titles, failed to make the knockout phase in 1992 and are under pressure to win on their home pitches.

In common with the 2011 tournament in the subcontinent, when Ricky Ponting's leadership was under constant speculation, the co-hosts have been distracted by local media reports of a rift between captain Michael Clarke, his team mates and the country's cricket governing body.

Recovering from hamstring surgery, Clarke was given a deadline by selectors to be fit in time for the team's second group match even as pundits have questioned his place in a batting lineup already brimming with class.

Reigning champions India also have no shortage of quality batsmen but have traditionally struggled on southern hemisphere pitches without penetrative seam bowlers.

Semi-finalists in six out of the 10 World Cups, New Zealand have generally punched above their weight and are expected to do so again with home comforts and a possible semi-final in Auckland.

As with the 2011 tournament, the 10 Test-playing nations will be joined by four Associate teams - Ireland, Afghanistan, United Arab Emirates and Scotland.

With two groups of seven teams playing round-robin matches, the preliminary round meanders for five weeks until the top four in each group advance to the quarter-finals starting on March 18.

Battling administrative chaos and baffling squad selections, twice champions West Indies may be the most likely to join either lowly Bangladesh or Zimbabwe in making an early exit.

With omitted former captain Dwayne Bravo paying the price for a contract dispute with the cricket board, 23-year-old all-rounder Jason Holder has the Herculean task of leading a team of disparate personalities.

Though the quarter-finalists are likely to conform to the eight highest teams in the ICC's world rankings, the knockout rounds will at least promise genuine suspense.

Five of the seven venues to be used during the knockouts will have drop-in wickets, which lack the variation and carry of the co-hosts' other traditionally prepared pitches, offering a more even playing field for the hosts and visitors alike.

It will be a last hurrah in the format for Sri Lankan stalwarts Kumar Sangakkara and Mahela Jayawardene, and for the latter, a farewell to international cricket altogether.

Organisers expect more than one million spectators to flock to the 49 games at 14 venues and a television audience of over a billion viewers, cricket's biggest window to the world.
Follow Emirates 24|7 on Google News.