World Cup scandal: Pakistan probe cricket selector's 'casino visit'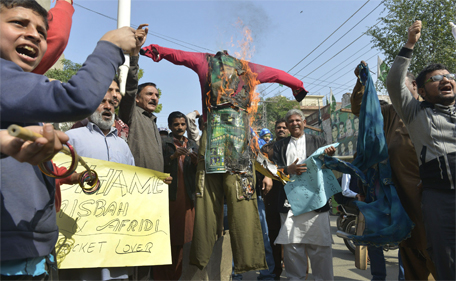 Pakistani cricket chiefs launched an investigation Monday into reports that chief selector Moin Khan visited a casino shortly before the team's calamitous World Cup defeat to the West Indies.

Fans, already in despair at Pakistan's dismal start to the tournament, have reacted furiously over claims Khan was seen in a casino in the New Zealand city of Christchurch ahead of Saturday's crushing 150-run defeat to the Windies.

"We have launched an investigation over the reports that Moin Khan visited a casino, action will be taken if the reports prove true," Shehryar Khan, the chairman of the Pakistan Cricket Board (PCB), told reporters.
Follow us on Twitter @E247Sports for exclusive coverage of all the action from Down Under

"As per initial reports, Moin Khan went there to have a meal two days before the match against West Indies and a Pakistani couple photographed him and made a video," Khan said.

"But we will not make anybody a scapegoat and will investigate this incident before taking any action."

Pakistan crumbled to 160 all out chasing the West Indies' 310-6 on Saturday, losing their first four batsmen for just one run, to add to the anguish of their opening defeat to arch-rivals India.

Fans in the central Pakistani city of Multan held a mock funeral for the national team after the defeat, which left them rooted to the bottom of group B.

The ever-mercurial Pakistanis will hope to kickstart their tournament when they take on Zimbabwe in Brisbane on March 1.


Follow Emirates 24|7 on Google News.