Yash continues to torment Neel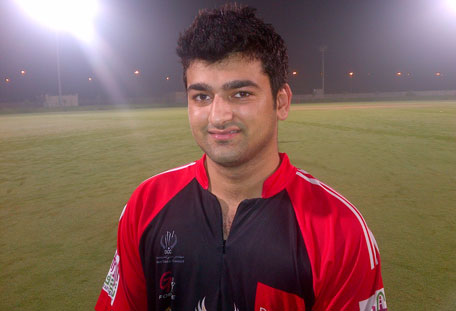 Neel Mighty Sindhis once again had no answer to Yash Makar's spectacular all-round display as they went down to Vintage Victorious Sindhis by four wickets in the Sindhi Premier Cricket League.

The tournament is being organised by the Sindhi Cricket Club under the auspices of the Dubai Cricket Council at the ICC's Global Cricket Academy ground at Dubai Sports City on Sunday night.

Yash, who had bagged four wickets and scored an unbeaten 20 when the two teams had met in their first round clash late last year, returned to torment them with yet another impressive bowling performance of 3 for 26 and then put the icing on the cake with a blistering 44 from 28 balls to walk away with the man of the match award.

After having lost all their seven matches in 2012 one expected Neel to regroup during the break and come out with guns blazing.

However, despite winning the toss they could manage just 144 for 9 from their 25 overs which their opponents Vintage achieved in barely 18 overs.

Neel could have been bundled out for below 100 but for Rohit Phulwani and Neeraj Sajnani's 56-run third-wicket partnership.

Rohit looked in good form slamming 39 from 31 and Neeraj gave him good company with an unbeaten 31.
However, Yash Makar struck at crucial moments to unsettle Neel and with Punit Bhatia, Prakash Gurbani and Manish Mirchandani backing him with two wickets each, Vintage knew they were in the driving seat.

Amit Kukreja (32) and Neeraj Ramamoorthy (14) then gave Vintage a flying start with a 42-run partnership.

Later Dilip Kundani and Yash savaged the Neel attack to smithereens to ensure the match got over well ahead of time.

Dilip's 25 off 19 with four boundaries and a six got the Vintage chase on track while Yash sealed the match with three sixes and four hits to the fence.

Neel bowlers Gaurav Rajkumar (3-39) and Bhawin Mehta (2-32) did well in parts but they had a small score to defend.

United Sindhis take on NHormus Divine Sindhis at the ICC's Global Cricket Academy ground at Dubai Sports City on Wednesday.

Brief scores:

Vintage Victorious Sindhis beat Neel Mighty Sindhis by four wickets.

Neel 144 for 9 in 25 overs (Rohit Phulwani 39, Neeraj Sajnani 31no, Paresh Amarnani 19, Pankaj Whabi 14; Yash Makar 3-14, Prakash Gurbani 2-29, Manish Mirchandani 2-34, Punit Bhatia 2-26) lost to Vintage 149 for 6 in 18 overs (Yash Makar 44, Amit Kukreja 32, Dilip Kundani 25, Neeraj Ramamoorthy 14; Gaurav Rajkumar 3-39, Bhawin Mehta 2-32, Ronit Phulwani 1-23).

Man of the match: Yash Makar of Vintage Voctorious Sindhis.


Follow Emirates 24|7 on Google News.