Zimbabwe upset Bangladesh to stay in T20 series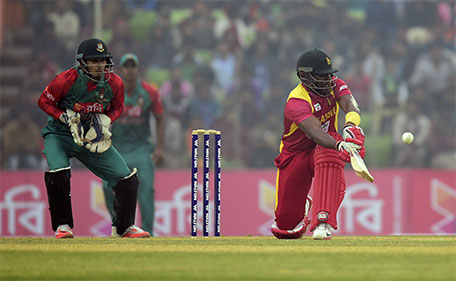 Malcolm Waller and Vusi Sibanda set up a big total as Zimbabwe crushed Bangladesh by 31 runs in the third Twenty20 international in Khulna on Wednesday to stay alive in the four-match series.
Opener Sibanda struck 44 off 33 balls and Waller hammered 49 off 23 as Zimbabwe posted 187-6 before restricting Bangladesh to 156-6 in a packed Sheikh Abu Nasir Stadium.
Sabbir Rahman made 50 off 32 balls for the home side, who won the first two matches by four wickets and 42 runs respectively, but found Zimbabwe's total too much of an ask.
Sabbir put on 67 runs with Soumya Sarkar (25) for the second wicket to give Bangladesh a positive start before Zimbabwe took control of the game through their spinners.
Leg-spinner Graeme Cremer claimed 3-18 while Sikandar Raza chipped in with 2-7.
After losing the first two matches, Zimbabwe's Sibanda came out firing with stand-in skipper Hamilton Masakadza, putting on 45 in the opening stand in just four overs.
Mohammad Shahid, playing his debut T20 for Bangladesh, broke the stand, with Mosaddek Hossain taking a catch at point to dismiss Masakadza for 20.
Shakib Al Hasan, who claimed 3-32, removed Richard Mutumbami (20) and Sibanda in successive overs to bring some respite for the home side.
But Waller, who hit two fours and four sixes, and Sean Williams (32) added 74 for the fourth wicket to ensure Zimbabwe did not stall.
Apart from Shahid, a string of other Bangladesh players made their T20 debut including Mosaddek, all-rounder Muktar Ali and paceman Abu Hider.
Batsman Imrul Kayes has also been brought into the squad, while several others were rested and batsman Mushfiqur Rahim and paceman Mustafizur Rahman are nursing injuries.
The fourth and final match of the series will be on January 22 at the same ground.
Scoreboard:
Zimbabwe
H. Masakadza c Mosaddek b Shahid 20
V. Sibanda c Sabbir b Shakib 44
R. Mutumbami c Sabbir b Shakib 20
S. Williams lbw b Hider 32
M. Waller c Soumya b Shakib 49
S. Raza c Sabbir b Hider 7
P. Moor not out 10
G. Cremer not out 0
Extras (lb2, w3) 5
Total (for six wickets; 20 overs) 187
Fall of wickets: 1-45 (Masakadza), 2-80 (Mutumbami), 4-89 (Sibanda), 4-163 (Waller), 5-177 (Williams ), 6-186 ( Raza)
Did not bat: B. Vitori, T. Chisoro, T. Muzarabani
Bowling: Hider 4-0-40-2, Shahid 3-0-32-1, Muktar 2-0-17-0, Mortaza 4-0-37-0, Shakib 4-0-32-3, Mosaddek 2-0-10-0, Mahmudullah 1-0-17-0 (w3)
Bangladesh
Imrul Kayes b Chisoro 1
Soumya Sarkar c Masakadza b Cremer 25
Sabbir Rahman c Muzarabani b Raza 50
Mosaddek Hossain b Raza 15
Shakib Al Hasan c Waller b Cremer 3
Mahmudullah c Mutumbami b Cremer 6
Muktar Ali not out 19
Nurul Hasan not out 30
Extras (b1, lb 2 w3, nb1) 7
Total (for six wickets; 20 overs) 156
Fall of wickets: 1-2 (Imrul), 2-69 (Soumya), 3-92 (Sabbir), 4-100 (Mosaddek), 5-102 (Shakib , 6-107 (Mahmudullah)
Did not bat: Mashrafe Mortaza, Mohammad Shahid, Abu Hider
Bowling: Chisoro 4-0-15-1, Vitori 4-0-45-0 (w1), Muzarabani 3-0-41-0 (w1), Williams 3-0-27-0 (nb1), Cremer 4-0-18-3, Raza 2-0-7-2
Result: Zimbabwe won by 31 runs
Series result: Bangladesh lead the series 2-1
Toss: Zimbabwe
Umpires: Enamul Haque (BAN) and Anisur Rahman (BAN)
TV Umpire: Sharfuddoula Saikat (BAN)
Match Referee: Chris Broad (ENG)
Follow Emirates 24|7 on Google News.