Cycling's Contador off the dope in Dubai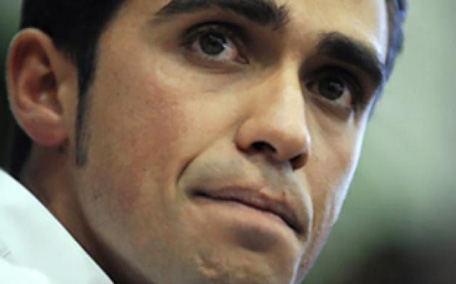 There is little that can be said about the professional cycling sport without a reference being made to the recent confessions of Lance Armstrong, 7-times winner of the Tour de France before he was disqualified from all races in 2012.
In an interview with Oprah Winfrey in January Armstrong publicly admitted that he had been using performance enhancing drugs throughout his career. In addition, he claimed that everybody in the cycling sport was doing so.
The confession rocked the world, and it left many people to wonder if doping was indeed the motor behind every professional cyclists' performance.
It was therefore not surprising that a journalist or two would refer to the case, when Alberto Contador visited Dubai to take a ride on the newest cycling track Nadd Al Sheba last Sunday.
However, a well-prepared PR-team was there to protect Alberto and his companions from the inevitable.
As soon as the word 'doping' or the name 'Armstrong' were raised, the audience was instructed to 'only ask questions related to cycling'.
A mumbling soul wondered if that ruled out talking about doping.
Lars Seier Christensen, CEO of Saxo Bank (Denmark), the bank that co-sponsors Alberto and his team in the upcoming Tour de France was a little more comfortable speaking about the subject.
Asked whether he considered the investment a risk now that the sport was plagued with allegations, he said: "The last five years have been much of a new anti-doping development, with efforts being made to wipe out doping from the sport.
"Although it was common practice five years ago, I believe things have changed and I have great confidence in the sport today."
Follow Emirates 24|7 on Google News.