Djokovic, Federer ease into Dubai semifinals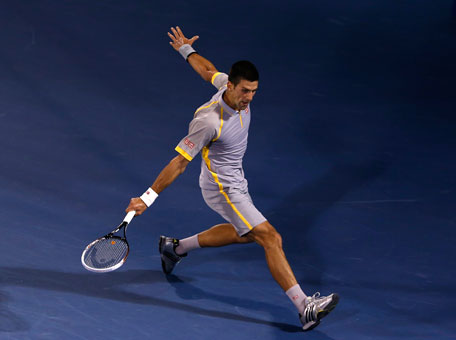 The line-up for the Dubai Duty Free Tennis Championship semi-finals are drawn, with all four top seeded players making it to the list with straight set wins.

While world number one Novak Djokovic will face Argentinean Juan Martin Del Potro in the first semi-final, defending champion Roger Federer will clash with Tomas Berdych in the second match.

Australian Open champion Djokovic had a rather easy contest defeating Andreas Seppi of Italy 6-0, 6-3.

The top-ranked Serb improved to 10-0 against Seppi as he would like to win the title for the 4th time in Dubai.

Djokovic broke three times in the first set and once in the second, using a strong first serve in which he won 89 per cent of points and a powerful forehand to cruise to victory.

"I'm pleased that it was an even better performance than in my first two matches and that I'm elevating my level. Hopefully I can sustain that," Djokovic said after his quarter final win.

Djokovic will play fourth-seeded Juan Martin del Potro of Argentina, who will make his second semi-final appearance defeating German qualifier Daniel Brands 6-4, 6-2.

Roger Federer was equally impressive firing five aces and seemed in a hurry to finish of the match beating Russia's Nikolay Davydenko 6-2, 6-2, taking just 54 minutes.

Pleased with his performance Federer said, "Today I thought I was really striking it well and then virtue of that I was getting the first strike in and then I was able to control the baseline more. So it was a good match for me."

The five-time champ Federer will face Berdych. Third-seeded Tomas Berdych beat Russian wild card Dmitry Tursunov 6-3, 6-2.

Berdych hit nine aces and won almost two thirds of the points against an opponent who was troubled by a hamstring injury.

After defeating Federer 5 times and most recently in the US Open, Berdych's morale will be high.

On facing Berdych Federer said, "I've struggled somewhat against him, but very often it's because his game is so big that, you know, he just then sort of has a big say in the outcome of the match, you know.

But I have had a couple of other ones where I have been able to come through. So we'll see tomorrow how it goes. I haven't seen him play at all here this tournament. I need to just focus on my game, I guess."

With the four top seeded players facing each other in the semi-finals, Dubai Tennis Championship promises to be at its best on Friday.
Follow Emirates 24|7 on Google News.