Don't say I don't care, says Arsenal's Ozil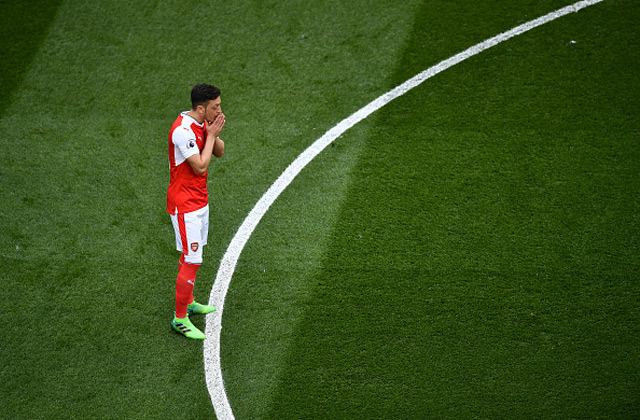 Arsenal playmaker Mesut Ozil has defended himself against criticism of his attitude and says his nonchalant body language can be misleading.
Ozil, 28, has been a peripheral figure as Arsenal's season has hit the skids, with Arsene Wenger's side slipping from the top four and being thrashed 10-2 on aggregate by Bayern Munich in the Champions League.
He produced another poor display in Arsenal's 2-0 defeat at derby rivals Tottenham Hotspur last weekend, but says people who say he does not care are wrong.
"Some people like me, some people don't," the Germany playmaker told the Goal website.
"Some people look at my body language and think I don't care. But that's me. I won't change my body language or my style of play drastically any more.
"Expectations on me were very high everywhere because I am a player who can make the difference. You have to deal with that.
"There will always be criticism and there will always be praise. But what matters is what the manager tells me. I have said that numerous times.
"But what I can't understand is when people say: 'Look, he does not push any more' or 'He does not run enough.' If you look at my numbers, you can see I run a lot and I show a good attitude."
Wenger defended Ozil on Thursday after it emerged the former Real Madrid star had kicked a door in anger after being selected for a drugs test following the defeat at Spurs.
"I am sorry that he kicked the door, but I can understand," the Arsenal manager told his weekly press conference.
"I don't think his frustration was towards the drug test. It was towards the fact that we lost the game and that is the only explanation I have."
Ozil's contract is due to expire in 2018 and he is yet to sign a new deal.
Wenger's future is also up in the air, but Ozil says his future is not tied to that of his manager.
"It does not only depend on the manager," he said.
"Of course he was the one who convinced me to join Arsenal and he was a main factor for me to come here. He is a very experienced coach who made Arsenal one of the best clubs in the world.
"You must have respect for him because he is a great manager. But I do not decide whether the manager stays or not. What's important for me is that we develop as a team and reach our goals."
Ozil also revealed he had received a lucrative offer from the Chinese Super League.
He said the offer was "tempting", but decided to turn it down.
"Money is not everything," he explained.
"I want to win titles and I have my goals I want to achieve. That is more important than money. That's why I said from the beginning that China is not an option for me."
Follow Emirates 24|7 on Google News.