England aim to join France in World Cup final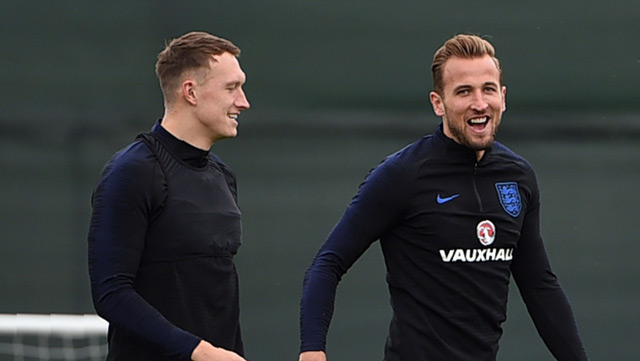 England will attempt to reach the World Cup final for the first time since 1966 on Wednesday when they face a talented Croatia team for the right to play France for football's biggest prize.
Gareth Southgate's England side are hoping their young legs can carry them past a Croatia team who have endured two penalty shootouts in a row.
England will grind to a halt for the 1800 GMT kickoff at Moscow's Luzhniki Stadium, with an estimated 30 million people across Britain expected to watch on TV and hundreds of thousands more cramming into pubs and public viewing areas to follow the game.
Despite a summer heatwave in England, fans have been urged to wear waistcoats in tribute to those sported by Southgate since the tournament began.
"We can feel the energy and the support from home and it's a very special feeling and a privilege for us," Southgate said on Tuesday.
England are in the last four of the World Cup for the first time since losing to Germany on penalties in 1990.
Southgate said he was convinced that win or lose on Wednesday, his team have a bright future after decades of English under-achievement on the international stage.
"We're going into a semi-final but it just seems like it's the next step on the journey," Southgate said.
Croatia are wary of the threat posed by England captain Harry Kane, the tournament's leading scorer with six goals so far, while England will have to close down arguably the best player of this World Cup, Luka Modric.
Six charter flights with more than 1,000 people on board left Croatia - a country of just four million people - to swell the team's support in the 80,000-capacity Luzhniki Stadium.
It is the first time since 1998 that Croatia have reached this stage.
"This is a really big day for Croatian sport and football," Prime Minister Andrej Plenkovic said before leaving for Russia.
"It is a success that we will remember for generations. We hope for a victory."
British Prime Minister Theresa May said she had exchanged football shirts with Plenkovic when they met on Tuesday.
"Gareth Southgate and the boys have done a fantastic job and I'm sure they are going to go on to do well and I wish them all the best of luck tonight," May said.
May will not attend the match because Britain has imposed a diplomatic boycott on Russia after blaming Moscow for the attempted assassination of a former Russian spy in England.
French joy
France reached the final for the third time in their history on Tuesday when a second-half header from Samuel Umtiti gave the 1998 champions a 1-0 victory against Belgium in Saint Petersburg.
The win sent tens of thousands of French fans pouring onto the Champs-Elysees avenue in Paris in scenes of joy last seen when France won the World Cup two decades ago.
Despite the much-vaunted attack of teenager Kylian Mbappe and Antoine Griezmann, France's defence proved the difference as they shut down Eden Hazard and Romelu Lukaku and they showed they will be hard to beat on Sunday.
French President Emmanuel Macron was in the stadium to watch the match and raised his arms in delight when France took the lead.
France coach Didier Deschamps said he was delighted to have the chance to bury the pain of the Euro 2016 final, which his side lost on home soil to Portugal.
"Finals have to be won because we have still not got over the one we lost two years ago," he said.
It was a painful defeat for Belgium, foiled at the semi-final for the second time in their history, as the clock ticks on their so-called "golden generation" of players.
Hazard shone at times but Kevin De Bruyne was quiet and Manchester United striker Lukaku was a shadow of the player he had been earlier in the tournament, even though Belgium enjoyed most of the possession.
In delirious scenes in Paris, fans let off fire crackers and released smoke flares - and predicted they would win a second World Cup.
"I was 18 years old in 1998, it was one of the most beautiful nights of my life. We'll repeat that this Sunday," said one supporter, Sebastien.
Follow Emirates 24|7 on Google News.