Exemplar Eibar show 'another way' in money-driven sport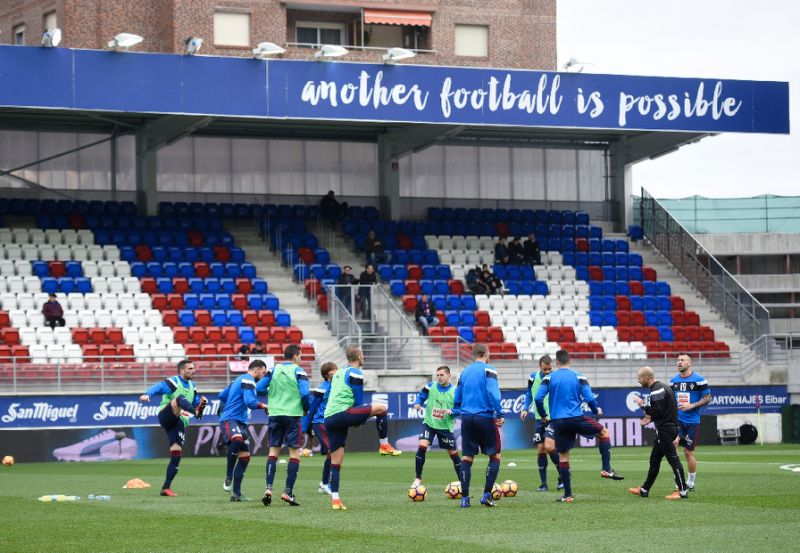 In a league dominated by the wealth of the two richest clubs in the world, Spanish side Eibar are punching above their weight to show "another kind of football is possible".
A town of just 27,000 people sandwiched between Bilbao and San Sebastian in the northern Basque region is enjoying a third consecutive season of top-flight football as the likes of Barcelona's Lionel Messi and Real Madrid's Cristiano Ronaldo pass through their 6,200 capacity Ipurua stadium.
Despite their limitations Eibar are far from just making up the numbers and they host Atletico Madrid this weekend just two places and five points behind the Champions League finalists, in eighth.
Eibar believe they can be a model for modest clubs all over Europe.
"With little money Eibar have done a lot," said Juan Carlos Castaneda Aguirre, proud president of supporters club La Casa de Cantabria. "We have a lot of heart."
From the president to the fans, Eibar have used their heads to defy the odds since promotion to La Liga for the first time in their history in 2014.
No sooner had Eibar won promotion, they had to raise 1.7 million euros ($1.4 million) to comply with new Spanish football regulations to safeguard the finances of all clubs.
Failure to raise the funds would have seen Eibar denied promotion and relegated to the third tier - despite being one of very few Spanish clubs not burdened by debt.
A crowd-funding campaign called "defend Eibar" saw the club's number of shareholders grow from just 1,800 locally to 10,000 across the world with the help of high-profile figures such as then-Real Madrid and now Bayern Munich midfielder Xabi Alonso.
"Eibar were only known here. We created a story and we were able to sell shares in Eibar in 69 countries across the world," said ex-president Alex Aranzabal, who oversaw the campaign.
David v Goliath
The money raised ensured Eibar could compete in La Liga and their financial prudence eventually paid off at the end of their debut season.
Despite finishing in the bottom three after a disastrous second half of the season on the pitch Eibar were saved from relegation as Elche, who finished 13th, were demoted for unpaid tax debts.
Since then Eibar have gone from strength-to-strength. A new collective television deal has seen the club's budget grow from 18 million euros in their debut top-flight season to 43 million euros this year.
The side coached by Jose Luis Mendilibar are still living in a different world to the 630-million-euro budget enjoyed by European champions Real Madrid or 695 million euros over at Barcelona.
However, that hasn't prevented them from playing David to their Goliath on the field.
In October, Eibar held Madrid 1-1 at the latter's Santiago Bernabeu.
"To see a team from a town like this play against the best team in the world and draw shows that another kind of football is possible," added Aranzabal.
"People in football normally look for results in the short term. The Eibar model isn't a short-term one, it is a solid model that tries to build a strong project, but that needs time.
"I am convinced that the same thing we have done at Eibar can be done in other places in Spain, France, Germany or England."
Most of all, football has given a once-booming industrial town - thanks to an old arms factory - something to be proud of again.
"Eibar is a small club, but they have values. It is a true family," said defender French Florian Lejeune, who has the unenviable task of stopping Atletico star and compatriot Antoine Griezmann on Saturday.
"They are a serious club that are showing good things, that is stable and manages money well."
Follow Emirates 24|7 on Google News.