Federer unfazed by treacherous Indian Wells draw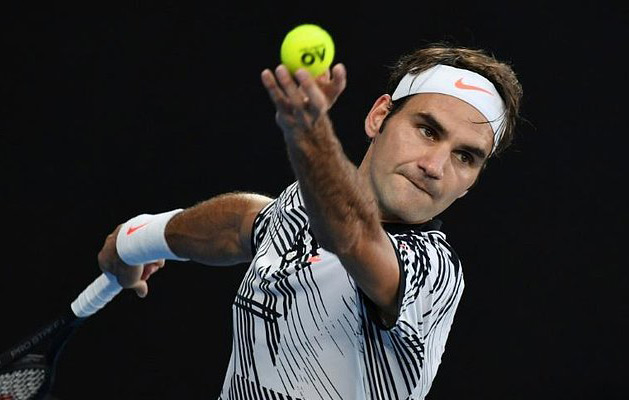 Roger Federer, riding high after an 18th Grand Slam triumph, isn't rattled by the tennis version of the group of death.
The Swiss superstar, whose Australian Open victory in January signalled a resurgence after a year disrupted by injury, is drawn in the same quarter with three-time defending champion and second seed Novak Djokovic and Spanish fifth seed Rafael Nadal in the Indian Wells ATP Masters.
"Amazing, amazing draw," said world number one and top seed Andy Murray, who has the luxury of analyzing it from a safe spot on the opposite end of the bracket.
"I've never seen anything like that, probably it would be one of the toughest sections of a draw of all time."
Ninth-seeded Federer, however, downplayed the drama of sharing a quarter with Nadal and Djokovic. Among the three of them they have won 12 of the past 13 Indian Wells titles.
To add a little more spice, they are joined by former US Open winner Juan Martin del Potro of Argentina, dangerous Spanish veteran Fernando Verdasco, mercurial Australian talent Nick Kyrgios - who shocked Djokovic in Acapulco last week - and tenacious teenager Alexander Zverev, who took Nadal to five sets in Melbourne.
"Most of the guys you won't even see, because they'll eliminate each other," the unflappable Federer said.
But he admitted it got his attention when the draw was made.
"The first message I got was Dudi Sela or Stephane Robert (for his first opponent) and I was like 'OK, fine,'" Federer said.
"Then I heard that Rafa was in my section I was 'OK'. Then I heard that maybe Novak's in my section - you're like 'OK, fine.'
"It doesn't matter," Federer insisted. "I've gone through so many draws. I came here to Indian Wells to play against those guys. So it doesn't matter if it's the semis the final or actually the fourth round.
"I think it's good for me to play those guys early. I look forward to it."
The unique situation is the result of last year's drop in form - and ranking - for Federer and Nadal, who signalled their resurgence with an epic Australian Open final duel in which the Swiss emerged victorious.
Section to avoid
Federer and Nadal could meet in the fourth round, and whoever advances from that section could meet Djokovic in the quarters.
In the same half, fourth-seeded Kei Nishikori and sixth-seeded Marin Cilic lurk.
The highest seed awaiting Murray in the quarter-finals could be seventh seeded Frenchman Jo-Wilfried Tsonga. Third-seeded Stan Wawrinka, or eighth-seeded Austrian Dominic Thiem, could meet Murray in the top half's semi-final.
While Murray said all possible paths to the final were treacherous, he, like many, was mesmerized by the talent packed into the bottom quarter.
In addition to Federer's 18 Grand Slam titles, Nadal has won 14, Djokovic 12 and del Potro one.
"In terms of the amount of Grand Slams you have in that bottom section and then also the younger, up-and-comers, it's pretty exciting for tennis fans for sure," Murray said. "Obviously a section, ideally, you would want to be avoiding, if you can."
Follow Emirates 24|7 on Google News.