Finland's Bottas, a cool head in a fiery sport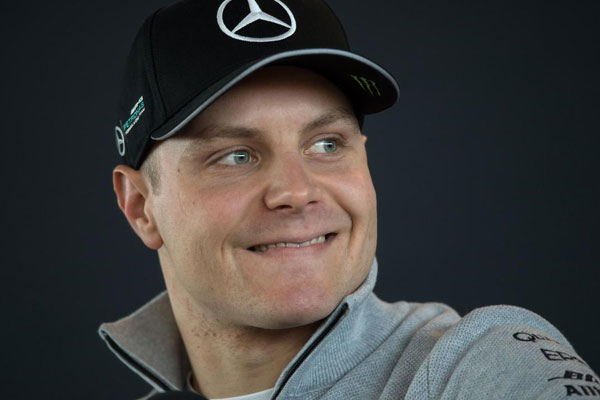 Valtteri Bottas was just six years old when he started go-kart racing, a little Finnish boy dreaming of winning a Formula One title.
On Sunday that dream moves a step closer to reality when he takes his place on the grid in the season-opening Australian Grand Prix as Lewis Hamilton's new teammate at Mercedes.
In January, the all-conquering German constructor cherry picked Bottas to replace their retired German champion Nico Rosberg, giving the 27-year-old "Finntastic" added horsepower he needs to become the fourth Finn to win an F1 world championship.
Rosberg's Finnish father, Keijo "Keke" Rosberg, won in 1982, followed by Mika Hakkinen in 1998 and 1999, and Kimi Raikkonen in 2007.
Born on August 28, 1989 in Nastola, a small lake-side community surrounded by the vast forests of southern Finland, Bottas honed his driving skills on muddy and icy roads.
One of the greats of Finnish motor sport, rally world champion Ari Vatanen, described Bottas as a level-headed, "trustworthy" person, the kind of guy you want on your team.
"He is very analytical and calm. Credible, without any diva attitudes, a guy with his feet firmly on the ground," Vatanen told AFP.
After completing his basic education, Bottas studied car mechanics at vocational school, continuing his racing career on the side. By 2009, at the age of 19, the talented young driver was already competing in Formula Three.
At the time, the confident adolescent boasted that within five years he would be driving a Formula One car that would allow him to win the world title.
In 2010, Williams made him their F1 test driver, and for the 2013 season he became the second Finn after Keke Rosberg to race for Williams.
It's taken more than five years for him to earn a drive in a car capable of winning the title, but now he does at Mercedes.
"When you can make it to... a team that is on top of the mountain, winning championships and able to win races, then it's up to you only," ex-champion Hakkinen, once a member of Bottas's management team, told Finnish channel MTV as speculation mounted about Mercedes eyeing Bottas.
Good fit with Hamilton
Bottas, who played ice hockey - Finland's national sport - as a child and who in his free time enjoys skeet shooting and cycling, has raced in 77 F1 Grand Prix, but he has yet to stand atop the podium.
Mercedes, who won three consecutive constructor titles from 2014, said they hoped for a good fit between Bottas and British triple world champion Lewis Hamilton.
"I am sure we are going to be close and we are going to be both pushing each other forward," the fair-haired blue-eyed Finn said after joining the team.
When news of the Finn's move emerged, Vatanen said he was confident Bottas would hold his own against Hamilton.
The Briton, who is more familiar with the car having spent the last four years with Mercedes, would have "a clear head start" to the season, but Bottas would "also fare well", Vatanen predicted.
In September 2016, Bottas married Finnish Olympic swimmer Emilia Pikkarainen, who took her husband's name.
After the wedding ceremony at a Helsinki church, it was Bottas's mentor Hakkinen who took the wheel to drive the happy newlyweds off in a posh Mercedes-Benz.
And in January 2017 it was payback time: When Hakkinen tied the knot with his long-time partner Marketa Remesova in snowy northern Finland, Bottas took the reins of a reindeer sleigh to whisk the couple away.
Follow Emirates 24|7 on Google News.