16 UAE schools to participate in inter-school football tournament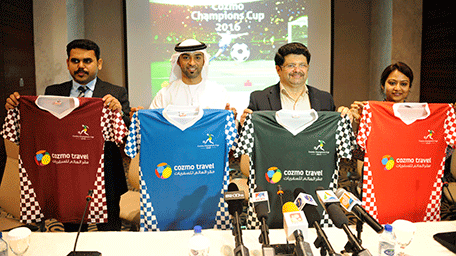 An annual football championship featuring 16 teams from different schools will begin from February 13 at the Wanderers Club in Sharjah
The inter-school football tournament is aimed to pave the way for youth to promote physical activity, sporting talents and aptitudes, while fostering and building a healthier lifestyle at a shape-up phase in their lives.
This initiative by Cozmo Travel, a member of Air Arabia Group, is organised in association with Sharjah Sports Council, National Olympic Committee and the UAE Sports for All Committee.
Jamal Abdulnasar, CEO of Cozmo Travel, said: "Our aim is to identify and promote new talents in the field of football. We believe this tournament will attract young talent towards sports activities and create awareness among them to be also focused on an active and healthy lifestyle. It is a unique opportunity for students from all types of schools to engage and share their experiences. In today's world, sports are equally important as academics for children and hence 'schools' became our main choice to begin such an initiative," he added.
Saeed Ali Mohammed Al Aajil, Director of Social Service at Sharjah Sports Council, said, "Sharjah Sports Council - Government of Sharjah has always encouraged sports activities to develop both physical and mental abilities of the youth. Our strategy is in line with the approach of the country's forward-thinking leaders, who stress on the importance of sports and extend constant support to sports enthusiasts. We hope this tournament will create new opportunities for students to experience football on a level where they practice leadership, commitment, fair play and teamwork."
Deepa Rajesh, Head of Sales at Cozmo Travel, said: "A total of 16 schools from Sharjah and Northern Emirates will participate in the tournament this year. This, being the initial phase of the tournament, the teams are set up with students from high school level. We will be expanding this from next year onwards targeting high schools and universities in the respective emirates."
Participating Schools
1. Al Amaal English High School
2. The Emirates National School Sharjah
3. Ryan International School Sharjah
4. Al Amana Private School
5. Habitat School Ajman
6. The Royal Academy Ajman
7. Brilliant International Private School
8. Gems Westminster School Sharjah
9. Far Eastern Private School Sharjah
10. Progressive English School Sharjah
11. India International School Sharjah
12. The New Indian School Umm Al Quwain
13. Gems Millennium School Sharjah
14. Sharjah Indian High School
15. New Indian Model School Sharjah
16. Leaders Private School
Follow Emirates 24|7 on Google News.