African Nations Cup: Nigerian champs come home as heroes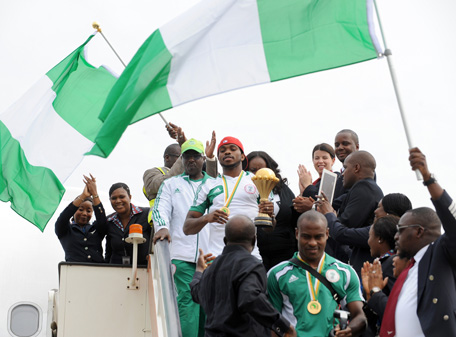 Nigeria arrived home on Tuesday to wild celebrations as tens of thousands lined the streets to catch a glimpse of their heroes after the team ended a 19-year wait to win the African Nations Cup at the weekend.
The players landed at Abuja's disorganised airport to the sound of beating drums and raucous chanting before driving the few miles to the national stadium through throngs of adoring fans packing the dusty highway.
"I am overwhelmed by what I am seeing," defender Joseph Yobo told reporters when the squad paraded the trophy to thousands who filled the stadium later.
"I don't remember our team ever getting this reception. Winning the cup is a great thing."
President Goodluck Jonathan is to host a lavish evening reception for the players and coaching staff at his villa.
The Nigerians beat Burkina Faso 1-0 in the final in Johannesburg on Sunday, Stephen Keshi becoming the second man to win the Nations Cup as coach and player.
Nigeria's usual sense of chaos ensured the drama did not end on the pitch.
Keshi hinted he might resign on Monday over a spat with the Nigerian Football Federation but he said in Abuja he had been persuaded to change his mind.
"While I have had cause to express my displeasure over some issues ... I have since had the opportunity to discuss these with all concerned. I have reconsidered my position and have decided to continue with my job," Keshi said in a statement.
Soccer-mad Nigerians expected their team to underperform in South Africa, as they had done repeatedly at previous Nations Cups.
The victory surprised a population of 160 million who have celebrated victory from the foot of the Sahara desert in the Muslim north to the oil-producing regions on the Atlantic coast in a rare show of national unity.
The Nations Cup win was Nigeria's third, following on previous successes in 1980 and 1994, the latter when Keshi was captain.
They will now play in the Confederations Cup in Brazil in June where they face Oceania champions Tahiti, South American champions Uruguay and world and European champions Spain.
Follow Emirates 24|7 on Google News.