Arsenal and Spurs earn dramatic wins as top four clash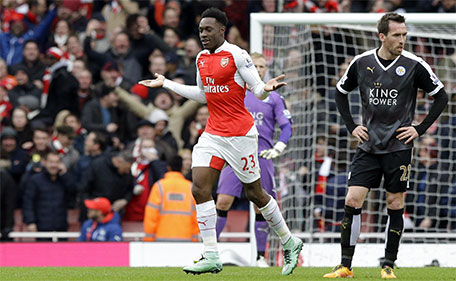 London rivals Arsenal and Tottenham Hotspur moved within two points of top spot with dramatic 2-1 wins over Premier League leaders Leicester City and Manchester City respectively as the top four clashed on Sunday.
Third-placed Arsenal's victory was secured by substitute Danny Welbeck in the dying seconds at The Emirates against a Leicester side who took the lead but were reduced to 10 men when Danny Simpson was sent off early in the second half.
Spurs won at Manchester City with a late strike from Christian Eriksen on his 24th birthday to stay in second spot above Arsenal on goal difference.
The most open championship race for years saw the two London teams increase the pressure on Claudio Ranieri's Foxes, who are hanging on to first place with 53 points and 12 matches to play.
Sunday's results also moved the pair four points clear of Manchester City, who stay fourth on 47, with Manchester United, who lost 2-1 at Sunderland on Saturday, six points further back and struggling to get close to the Champions League places.
Arsenal manager Arsene Wenger said his side's win was hugely important as the title race heads towards the home stretch.
"It was a pivotal moment today because the mathematics meant we could be eight points (behind Leicester) or it could be two points. That is a great change," he told Sky Sports.
"There's a long way to go, we play a lot of big teams. But we had a bad spell where we couldn't win for four games and have now won two on the bounce. We have come out of that bad spell and still have a good chance."
VARDY PENALTY
Jamie Vardy had put Leicester ahead before halftime after he was fouled by Nacho Monreal but the balance of power tilted Arsenal's way when Simpson was sent off after 54 minutes and the hosts equalised through substitute Theo Walcott in the 70th.
Arsenal took all three points when Welbeck, on his first appearance since last April due to injury, headed the winner in the fifth minute of stoppage time by glancing home a free-kick from Mesut Ozil.
The result was a heart-breaker for Leicester, who have never been champions, but while their Italian coach Ranieri was angry over Simpson's dismissal, he remained calm after the defeat.
"If I think about the match I am very, very angry. An international referee gives two yellow cards for normal fouls," he said, adding that the winning goal came after the allotted stoppage time had been played.
"But it's ok, it doesn't matter. We continue to fight. We don't think about the title, we think about our performance."
SPURS BENEFIT
While Leicester were victims of one controversial refereeing decision, Spurs benefited from another when Mark Clattenburg ruled that Manchester City's Raheem Sterling handled a cross from Tottenham's Danny Rose with his back to the ball.
Harry Kane converted the penalty to put Spurs ahead before Kelechi Iheanacho equalised for City in the 74th by sweeping in a cross from Gael Clichy.
The match went Spurs' way when playmaker Eriksen controlled the ball with two touches and scored after 83 minutes.
"It was a very good performance, we are still a young team and we will benefit from performances like that," said Tottenham coach Mauricio Pochettino, who would not be drawn on their chances of a first league title since 1961.
"We just concentrate on the next game," he said laughing.
In Sunday's other match, Liverpool won 6-0 at Aston Villa, with four goals coming in a 13-minute blitz midway through the second half, to push the home side closer to their almost inevitable relegation after 28 years in the top flight.
Follow Emirates 24|7 on Google News.