Arsenal fan kills Liverpool supporter in Kenya on Saturday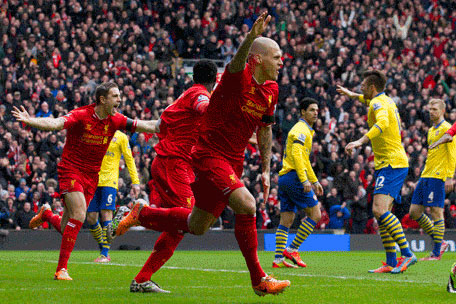 An Arsenal fan in Kenya stabbed a Liverpool supporter to death on Saturday while they were watching on television as the Merseyside club beat the Londoners 5-1 in the Premier League, said a local police chief.

Tom Odera, police chief in the north eastern region of Meru, said "the assailant and the deceased had a bitter argument over the match".

"The assailant, David Mwangi, drew out a knife and stabbed Anthony Mutethia," Odera told Reuters by telephone on Monday.

Kenyans, like most Africans, are fervent English Premier League fans and regularly throng bars and restaurants to watch their favourite teams.

The fanatical support has, in the past, seen Kenyan soccer fans grab headlines for the wrong reasons.

A Manchester United follower in the capital of Nairobi last year committed suicide after his team lost to Newcastle United.

In 2009, an Arsenal fan hanged himself after the Londoners lost to United in the second leg of a Champions League semi-final game.

"We encourage people to be football fans as a hobby but taking fanaticism into football is discouraged," said Odera.
Follow Emirates 24|7 on Google News.