Arsenal must toughen up, admits Wenger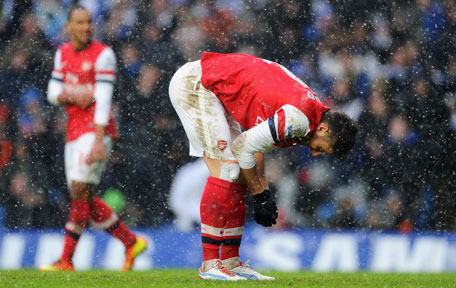 Arsene Wenger admits Arsenal's bid for a top-four finish in the Premier League is in danger of ending in disaster unless his players toughen up.

Wenger's side are seven points adrift of fourth placed Tottenham after slumping to a 2-1 defeat at London rivals Chelea on Sunday and their hopes of qualifying for the Champions League are looking increasingly bleak.

A week after waving the white flag all too quickly in a 2-0 loss against Manchester City, Arsenal once again paid the price for making a nervous start.

The lacklustre Gunners were two goals behind within 16 minutes at Stamford Bridge as Juan Mata's cool strike and a Frank Lampard penalty raised the temperature on a freezing afternoon in snowy west London.

Theo Walcott sparked a spirited second half fightback when he reduced the deficit in the 58th minute, but Arsenal couldn't turn their possession into an equaliser, leaving Wenger to bemoan his stars' lack of killer instinct.

Wenger also complained that Chelsea's opener should have been ruled out for a foul by Ramires on Francis Coquelin in the build-up and then claimed Wojciech Szczesny's challenge on Ramires wasn't worthy of a penalty.

But it was significant that he was willing to turn his fire on his own players rather than soley blame referee Martin Atkinson.

"We started the same as against Man City, we didn't go for it and didn't defend well," Wenger said.

"When you start 2-0 down in the big games it is very difficult. Chelsea played well but we gave them too much room and didn't defend tight enough.

"We had a physical problem to get going. There is a psychological ingredient in there for sure as well because in the last two games we didn't really go for it.

"On top of that we were a bit unlucky because I felt it was a free-kick for the first goal and the second wasn't a penalty. The referee could have given a yellow card to Ramires (for diving)."

With just one win in their last five matches in all competitions, Arsenal are still far too inconsistent to take a top-four place for granted and the prospect of failing to qualify for Europe's elite club competition is giving Wenger cause for concern.

"Of course it is very damaging for our position in the league and very difficult to swallow," Wenger said.

"The table is the table. We have lost two big games in the last week and we cannot afford to drop points anymore if we want to be in the top four.

"It is a concern. There is great spirit and quality in the team but they have to believe more in the quality we have."

While Arsenal face an uphill struggle to finish in the top four, third placed Chelsea - now 11 points clear of the Gunners - look certain to achieve that goal.

Blues interim manager Rafael Benitez was delighted with the way his team took Arsenal apart in the first half and then showed their defensive resilience when the visitors threatened a comeback.

"We were creating a lot of chances at home but not winning. This time we had a lot of chances and were on top, controlling the game," Benitez said.

"We deserved to win. We were very good in the first half and defended with great character in the second half.

"Winning against a top side, a very good team, is always important, especially when you want to be sure of staying in the top four."

It was just Chelsea's second home league win under Benitez and for once the former Liverpool manager, so unpopular with Blues fans, avoided any abuse from the stands.

And Benitez took the opportunity to take a swipe at the critics who claimed he would never win over Chelsea's supporters.

"People like to talk about stats but they don't have any clue what is going on," he said.

"When you have only one striker for a month it is hard to change things around, now we have two it is easier."


Follow Emirates 24|7 on Google News.