Arsenal transfer news: Wenger eyes defender after Debuchy injury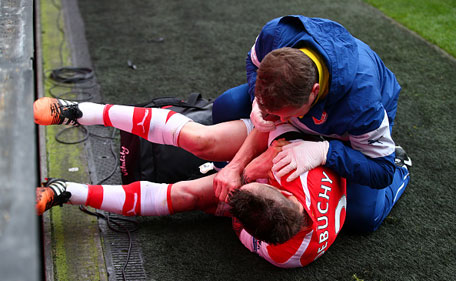 Arsenal manager Arsene Wenger will step up his efforts to sign a centre-back this month after losing Mathieu Debuchy to a dislocated shoulder during the 3-0 victory over Stoke.

Wenger insists a central defender was already his priority but the need to strengthen his defensive options was reinforced by the loss of France international Debuchy and the continuing absence of England left-back Kieran Gibbs.

Wenger was unable to say how long right-back Debuchy would be out for following his collision with the pitchside hoardings at the Emirates Stadium after a challenge by Stoke's Marko Arnautovic on Sunday.

But with Gibbs still suffering from an ankle injury, the Gunners squad is once again getting stretched.

"The only negative today is we lost another defender, an experienced defender, with a dislocated shoulder. And that gives us a problem because at the back on the experience front, we are already short," Wenger said.

"With a dislocated shoulder you need a diagnosis from a specialist and we don't know yet but he will certainly not play next week. And Gibbs' ankle is still inflamed. He had a test and it didn't work.

"I was in the market anyway. But what is for sure, not having Gibbs and Debuchy affects us. Nacho Monreal can play centre-back, Debuchy can play centre-back.

"But if Gibbs is not here, Monreal cannot play centre-back and if Debuchy is not here he cannot play centre-back so this is a position at the moment where we are short."

Alexis Sanchez was the outstanding figure in a win that moved Arsenal up to fifth in the Premier League, with the Chile forward scoring twice after Laurent Koscielny headed the Gunners into a sixth minute lead.

Wenger dropped goalkeeper Wojciech Szczesny in favour of David Ospina, but insisted the decision had nothing to do with Szczesny being fined for smoking in the showers after the recent defeat at Southampton.

The Frenchman delivered a broad hint, however, that the Poland international was unhappy with the decision.

"I don't know (how he took it), but how can you take a decision? You know how you can take a decision," Wenger said.

"I haven't made a decision about the next game yet. I made a decision for today's game. Szczesny is our number one, he is competing with Ospina and Martinez and that's our job, we have to accept."

And asked to expand on his reasons for dropping Szczesny, who was at fault for both Southampton goals in the 2-0 defeat earlier this month, Wenger said: "Look, I don't want to talk too much about that because the more I talk, the less I inform you."

Mesut Ozil was used as a second half substitute, the Germany international's first appearance since injuring his knee against Chelsea in early October, but Wenger insisted he isn't ready to make a full return.

"He is fit. He lacks match fitness. He is physically fit but after it's getting used to contact again and we take two to three more weeks," he added.

Stoke manager Mark Hughes had no complaints about the result, accepting his side were unable to handle Arsenal's attacking threat and in particular Sanchez.

"When you see the power he has got and the pace. He is outstanding," Hughes said.

"In close areas on the pitch, when you try to close him down in close areas, he has intelligence and understands where everyone is.

"It wasn't just him – there were others who could claim they added to a good performance. We were well beaten."

And Hughes, who worked with Carlos Tevez when he was manager of Manchester City, admitted there are similarities between the two forwards.

"They are similar. South American players do have this passion and drive, willingness to work and make things happen," Hughes said.
Follow Emirates 24|7 on Google News.