Arsenal vs Bayern, Champions League 2nd leg: Gallant Arsenal end Bayern streak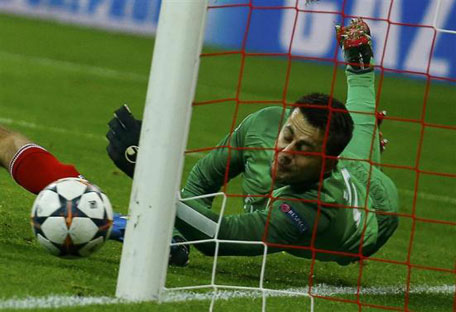 Arsenal ended Bayern Munich's long winning streak when they held the Bavarians to a 1-1 draw in the Champions League on Tuesday but it was not enough to stop the holders reaching the quarter-finals 3-1 on aggregate.

Bastian Schweinsteiger put Bayern ahead in the 55th minute of the last-16 second leg but Lukas Podolski stunned the Allianz Arena when he fired into the roof of the net two minutes later.

Podolski's goal gave Arsenal a glimmer of hope although the Germans played keep-ball in the closing stages as the visitors ran out of gas.

Bayern had won 13 games in a row in all competitions since a 3-2 home defeat by Manchester City in the Champions League in December.

They could have made it 14 victories in succession but substitute Thomas Mueller had a stoppage-time penalty saved by Arsenal keeper Lukasz Fabianski.

Bayern spent most of the first half probing a resilient Arsenal defence that just about managed to hold out.

It was always touch and go for the Londoners especially when Franck Ribery ran free down the left and sent the ball into the middle where Arjen Robben failed to connect properly.

Javi Martinez had a goal disallowed for offside in the 26th minute and Robben had two dangerous efforts cut out by defenders as Bayern tried to turn the screw.

Fabianski came to the rescue when he got down to save Mario Goetze's low shot seconds before the break.

Bayern finally broke through 10 minutes after the restart when Ribery sneaked into the area and laid the ball off for Schweinsteiger to finish from eight metres.

The referee surprisingly waved play on even though Podolski seemed to push Philipp Lahm in the area two minutes later and the Arsenal forward went on to hammer the ball home.

Bayern keeper Manuel Neuer then had to rush out of his box to head the ball clear after Tomas Rosicky tried to send Olivier Giroud clean through.

Neuer had the home fans on edge again when he sent a clearance straight to Giroud but the Bundesliga leaders quickly regrouped.
Bayern earned the first real chance when winger Franck Ribery found space on the left and sent in a cross which Arjen Robben fired over with 19 minutes gone.

Spain's Javi Martinez had a goal disallowed for offside after 27 minutes, while at the other end Bayern's Manuel Neuer saved Olivier Giroud's header.

Mario Mandzukic, who headed over, Robben, whose shot was blocked, and Mario Goetze, who forced Fabianski into a fine save, had chances as Bayern enjoyed their customary 70 percent possession, although it stayed goalless at the break.

Wenger made a key change for the second-half as Mesut Ozil, who had hamstring trouble, made way for Tomas Rosicky in the attacking midfield role.

It marked a miserable two legs for the off-form Ozil, who apologised to Gunners fans via Facebook after failing to convert a key penalty in the first-leg.

Soon after the break referee Svein Oddvar Moen ignored Bayern's penalty appeals when Robben went down in the area just before the opening goal.

Ribery found space on the left and crossed inside to Schweinsteiger, playing his first Champions League game since November, to drill home on 55 minutes.

The lead lasted just two minutes as Arsenal's Germany winger Lukas Podolski robbed Bayern captain Philipp Lahm and fired home from a tight angle giving Manuel Neuer no chance.

There was drama in added time as Bayern replacement Thomas Mueller had a penalty attempt saved by Fabianski after Robben was fouled by centre-back Laurent Koscielny.

The result was welcome news in a dark week for the Bavarian giants. The Allianz Arena clash was played against the backdrop of the court case against Bayern president Uli Hoeness, which started Monday.

The 1974 World Cup winner is fighting to avoid a jail term and stands accused of having dodged 27.2 million euros ($37.6 million) in taxes by hiding his wealth in Swiss bank accounts.

A verdict is expected on Thursday and major tax fraud carries a maximum sentence of 10 years in Germany.

FULL TIME

Bayern 1 (Schweinsteiger 55") Arsenal 1 (Podolski 57")
Bayern Munich ended Arsenal's campaign in the Champions League after a 1-1 draw in the second leg of the Champions League last-16 match at the Allianz Arena on Tuesday night.
The German champions progressed by virtue of their 2-0 win in the first leg at the Emirates Stadium to go through to the quarter-final 3-1 on aggregate.
Joining them in the last eight stage is Atletico Madrid who routed AC Milan 4-1 at the Calderon to advance with a 5-1 aggregate.
Arsenal needed something extraordinary from their strikers to overcome the 2-0 deficit. But from the outset they were defensive and were made to pay the price as they exited the tournament at the same stage as of last year.
After a goalless first half Bayern found the target through Schweisteiger in the 55th minute. But Podolski gave the Gunners some hope with a strike two minutes later.
That was as far as they could go. In fact Bayern could have added to their tallyt but Thomas Mueller's penalty was well saved by Fabiaski.
92" Giroud has an opportunity for Arsenal but wastes it. Its all over looks like for the Gunners.
91" Fabiaski stops Mueeler's penalty with a diving save after Robben earned it by faking a foul in the box.
88" Gnabry takes a pot-shot at the Bayern goal but is wayward.
85" Time running out for Arsenal and Fabianski comes out again to make a clearance.
83" Flamini comes in for Oxlade-Chamberlain. Ribery makes way for Mueller.
80" Arsenal and Wenger are 10 minutes away from making an elimination.
79" Lahm cross from right Mandzukic header is weak.
75" Wenger has very little tile to come up with the two goals to see his team go through. He brings in Serge Gnabry for Arteta.
75" Robben is clearly not at his best today. Here too he makes a good run but lacks that killer punch.
69" Mandzukic fails to control the ball right in front of an open goal with Fabianski beaten by a cross after Schweinsteiger lobs it into the box.
63" Schweinsteiger dribbles his way through and then has a shy but is well off the mark.
Arsenal 1 (Podolski 57") Bayern 1 (Schweinsteiger 55")
57" GOAL! Podolski revives Arsenal's hopes with a goal immediately blasting past a hapless Neuer.
Arsenal 0 Bayern 1 (Schweinsteiger 55")
55" GOAL! Good work by Ribery on the left, crosses for unmarked Schweinsteiger to tap home.
53" Arsenal survive Bayern pressure. At this rate it looks doubtful Wenger's boys will be able to overturn their 2-0 deficit.
50" Robben feints and trips inside the box expecting a penalty. He should be lucky not to be shown a yellow for play-acting.
46" Wenger makes his first change in the second half withdrawing off-colour Mesut Ozil and sending in Tomas Rosicky.
Arsenal and Bayern Munich played out a lacklustre first half in the second leg of the Champions League last-16 at the Allianz Arena on Tuesday night.
As expected Bayern dominated, in fact literally camped themselves in the Arsenal area, but poor finishing by Robben, Goetze and Alaba was a result of the Gunners going into the breather without conceding a goal.
Fabianski brought off a good save of Goetze against the run of play. But that apart the rest of the shots at the Arsenal goal looked innocuous.
Arsenal looked defensive in their approach. Oxlade-Chamberlain was the only striker to make some inroads but was closely checked by the Bayern defenders with Dante being shown the yellow for a harsh tackle on him.
Arsenal's Podolski and Arteta too earned yellows as the Gunners showed lack of ideas to control the game.
HALF TIME

Arsenal 0 Bayern 0
44" A minute to go and Fabiaski saves Arsenal the blushes with a diving save off a Goetze low shot.
43" Arsenal just seem to be content on defending and clearing the ball.
38" Mandzukic rises high for a header but is off target, well over the crosspiece.
37" Robben shows poor finishing. After a nice one-two with Mandzukic, Robben hits into a crowd of defenders.
35" Alaba sends a feeble shot wide.
33" Robben with his body swerves finds his way into the Arsenal box but is deprived by a clkuster of defenders.
31" Neuer makes a diving save after Giroud's header goes to his far left froma corner by Ozil.
30" Chamberlain makes a solo run but is tripped by Schweinsteiger. Cazorla's free-kick deflects of a defender for a corner.
29" Arsenal seem to be losing the plot here and their cool as Arteta is booked this time with a yellow.
25" Podolski is hauled up for a tackle on Robben.
20" Metsesacker uses his long legs to block Mandzukic's shot at goal.
18" From the counter Bayern's Robben shows poor shot selection. With Fabianski beaten by a cross from Ribery the ball came to unmarked Robben whose one-lob shot went over the crosspiece.
17" Good work by Podolski finally earns Arsenal their first corner, but Cazorla's kick is easily collected by a confident Neuer.
14" Robben and Lahm move dangerously inside the Arsenal box. There seems to be a lot of commotion in the Gunners danger area.
12" The Bayern players seem to have camped inside the Arsenal territory.
8" Bayern's Dante is shown the yellow card for a harsh tackle on Oxlade-Chamberlain. The Brazilian will miss the next match.
7" Bayern keep pressing and get another corner but Robben's kick is cleared to safety.
4" Corner for Bayern but there is a foul in the box. Arsenal on the defensive.
3" Schweinsteiger tests Fabianski with a long range shot but the goalkeeper stands tall to collect it with ease.
2" Bayern earn an early free-kick but Arsenal manage to thwar the danger.
Arsenal set the ball rolling by kicking off. The Gunners will be a little cautious not to concede an early goal.
Teams troop in as tension picks up in both camps. Guardiola moves across to wish Wenger, a good gesture from the Spaniard there.
Five minutes to go for the kick-off.
Mueller's ouster comes as a surprise from Pep Guardiola especially after he netted he second goal in the first leg.
Teams get onto the field for a light warm-up as the Allianz Arena is packed to capacity.
TEAMS
Arsenal: Fabianski, Sagna, Vermaelen, Arteta, Mertesacker, Koscielny, Cazorla, Oxlade-Chamberlain, Giroud, Ozil, Podolski.
Substitutes: Rosicky, Viviano, Flamini, Jenkinson, Gnabry, Hayden.
Bayern: Neuer, Lahm, Alaba, Thiago Alcantara, Javi Martínez, Dante, Robben, Schweinsteiger, Mandzukic, Gotze, Ribery.
Substitutes: Van Buyten, Rafinha, Pizarro, Boateng, Starke, Müeller, Kroos.
Referee: Svein Oddvar Moen (Norway)
TEAM NEWS
Arsenal
Left-back Kieran Gibbs will miss tonight's tie with an ankle injury while striker Yaya Sanogo (foot) is also out but defender Laurent Koscielny (hamstring) is back in contention.
Goalkeeper Lukasz Fabianski is set to replace the suspended Wojciech Szczesny, who was sent off in a 2-0 first-leg defeat against Bayern.
Jack Wilshere (fractured foot) remains sidelined for the Gunners, as do fellow midfielders Aaron Ramsey (thigh) and Kim Kallstrom (back), and full-back Nacho Monreal (ankle). Theo Walcott and Abou Diaby remain long-term absentees.
Bayern
Franck Ribery will make a comeback after missing the first leg.
PROBABLE FORMATIONS
Arsenal 4-2-3-1
Bayern 4-1-4-1
STAT ATTACK
Bayern have won 11 of their last 12 matches in the Champions League (including qualifiers).
Bayern have scored at least 2 goals in 11 of their last 12 matches in the Champions League (including qualifiers).
Thomas Mueller is Bayern's leading scorer with 22 goals in all competitions, while Olivier Giroud leads for Arsenal with 18 goals.
PREVIEW
To say that Bayern Munich go into tonight's Champions League last 16 second-leg clash against Arsenal as favourites would be an understatement as everything points in their favour to progress into the quarter-finals.

The Bavarians have been sending records tumbling in the Bundesliga after recording their 16th victory in a row, improving their own league record of 15 straight wins in 2005. They also extended their record unbeaten league run to 49 matches, equalling Arsenal's Premier League record of 49 games without a defeat set in 2004.

They carry a 2-0 first-leg advantage over the Gunners and are fresh from a 6-1 drubbing of Wolfsburg over the weekend. If that is not all, then the return of France winger Franck Ribery, Swiss star Xherdan Shaqiri and Germany's Thomas Mueller should only bolster their chances of progressing.

Their only worry could be the three defeats to English sides at their Allianz Arena. They were beaten on penalties by Chelsea in the 2012 Champions League final after a 1-1 draw, lost 2-0 to Arsenal at the same stage of the Champions League last season and went down to Manchester City 3-2 in the season's group stage despite taking a two-goal lead.

That surely is cause for concern and coach Pep Guardiola, who is known to be a perfectionist, has asked for more from his team.

Despite a convincing win against Wolfsburg, the Spaniard was not satisfied and made it very clear to his team in no uncertain terms that they cannot same the same mistakes against a side like Arsenal.

"We did not dominate the match in the way we have dominated previous games. I know Arsenal very well. They are good enough to keep possession for a long time. We have to dominate them with the ball," Guardiola said.

While the Bayern manager has the luxury of having a fit squad the same cannot be said about Arsene Wenger who is struggling with an injury-hit squad.

Laurent Koscielny (hamstring) is doubtful, while Aaron Ramsey (thigh) and Kim Kallstrom (back) are not likely to return soon which leaves Wenger in a spot of bother.

However the Frenchman can take heart from last season's win at the same venue and is confident if his side can score early anything could happen.

"I am confident we can produce a stunning result. It is down to scoring the first goal, After that, anything is possible," said Wenger.

"It is never over in this game. We will go there with belief that we can do it."

And with a 4-1 win over Everton in the FA Cup quarter-final on Saturday, Wenger has every reason to be optimistic.
Follow Emirates 24|7 on Google News.