Arsenal won't freeze again, says Wenger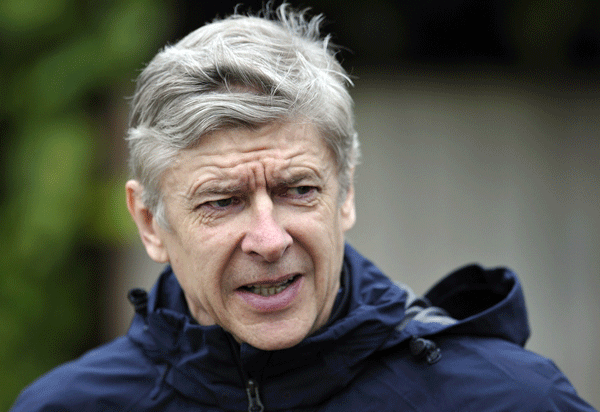 Arsenal manager Arsene Wenger has warned Barcelona there is no chance his players will freeze when they try to avenge last season's Champions League defeat against the Spanish stars.
Wenger knows his side showed Barca too much respect as Lionel Messi, Xavi and company turned on the style to win their quarter-final clash 6-3 on aggregate.
But the Gunners have a chance to make amends in the last 16 clash, with the first leg at the Emirates Stadium on Wednesday, and Wenger is adamant Arsenal's improved Premier League form shows they are now a stronger and more confident outfit who won't suffer from another dose of stage-fright.
"We are in ideal condition to face them. We have the belief and confidence and the players available are close to 100 percent. That was not the case last year," Wenger said.
"In the first half of the home game last year we were spectators and a little bit inhibited. Now I believe we are a completely different team.
"We have made our own way by challenging for the title when nobody predicted we would.
"I believe we are a stronger team because we have attitude and focus. I have not seen many teams who have such a consistent focus every day to improve.
"But more than looking at the past we want to show how good we are. We want to win this competition, we know we face the super-favourites but the only way to do it is to knock them out.
"The players don't deny the quality of Barcelona. What is important is to say 'look who we are now, we are capable of knocking you out now'. That is our target and what we want to achieve. We have much more belief."
Pep Guardiola's side are top of La Liga and playing with the kind of style and verve that a purist like Wenger can't help but admire.
Arsenal can play some impressive stuff themselves of course, but Barca's comfortable victory last season only added to the belief that the Gunners are merely Barcelona-lite.
Although Wenger has total confidence in his players, he acknowledges Barca will present the ultimate test of their credentials.
"Barcelona at the moment are the best team in the world and you think 'if we knock Barcelona out we have a good chance to win the competition'," he said.
"It is the toughest test in Europe but I believe you can say we have a good opportunity to show we are not the team that played against them last year.
"Last year they were the better team, but I believe in my players, they have the quality 100 percent to do it.
"Everyone expects an exciting game because it is two teams that play quality football. We want to be faithful to our philosophy and pass the ball well so we can dominate the game."
Wenger can take heart from the way Sporting Gijon ended Barca's 16-match winning run in La Liga with a 1-1 draw at the weekend and he believes that disappointing result could be a blow to the Spaniards' morale.
"It is always difficult after internationals but when you end a series (of wins) it always takes something out of you of course," he said.
If Arsenal are to shock Barca over the two legs, Wenger will need a pair of Herculean performances from captain Cesc Fabregas.
The Spain midfielder could easily have been playing for Barca in this fixture if Wenger had bowed to the player's desire to return to his former club.
Instead Wenger stuck to his guns and Fabregas remains Arsenal's driving force.
Wenger insists Fabregas won't be distracted by the prospect of playing a club who remain close to his heart.
"He will approach this game like he approaches every single game, with a huge desire to win," Wenger said.
"He is an exceptional player but also a winner. He wants to win and when he doesn't achieve that he is very frustrated. He will be thinking what can he do to help the team win."
Follow Emirates 24|7 on Google News.