Barcelona join Real, United in $500m club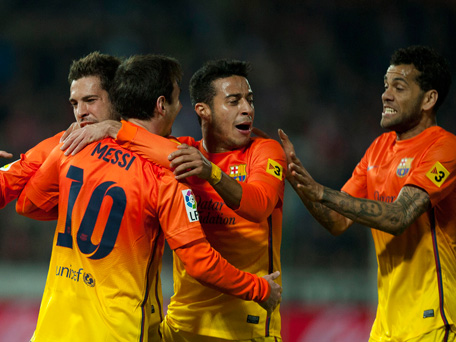 European champions Barcelona joined Real Madrid and Manchester United in earning over 500 million euros ($545.5 million) last season, financial consultants Deloitte revealed in their latest Football Money League published on Thursday.
Madrid topped the table for the 11th year running with earnings of 577 million euros over the course of the season, driven largely by a 22.7 million euros increase in commercial revenue.
Barcelona, buoyed by on-pitch success that included a La Liga, Spanish Cup and Champions League treble, climbed from fourth place to second place with revenues of 560.8 million euros, bumping United down to third.
"For the first time, the top three clubs in the Football Money League have all passed the 500m euros revenue mark," said Dan Jones from Deloitte's Sport Business Group.
"FC Barcelona's on-pitch achievements in the 2014-15 season have translated to financial success. The European champions have climbed to second place at the expense of Manchester United, with revenue growth across all areas of the business - matchday, broadcast and commercial."
Barcelona's president Josep Maria Bartomeu told the Financial Times last month that the club aim to become the first to make one billion euros in a year by 2021.
Their plans include a 600 million euros renovation of the 93,000-capacity Camp Nou and the opening of more overseas offices.
Combined revenue for the top 20 clubs in the list rose eight percent to 6.6 billion euros - a new record.
German champions Bayern Munich fell to fifth, their lowest placing since 2006-07, with Qatar-backed French champions Paris Saint-Germain overtaking them following another year of growth.

Richest
Real Madrid are the richest soccer club by revenue for the 11th straight year and La Liga rivals Barcelona have leapfrogged Manchester United into second, according to Deloitte's Football Money League.
Real topped the list published on Thursday, with an annual revenue of 577 million euros ($629.3 million) as the combined figure for the top 20 Money League clubs rose by eight percent to a record high of 6.6 billion euros.
Barcelona's stunning success on the pitch in 2015, when they claimed five of the six trophies on offer, including La Liga and the Champions League, helped them move above Manchester United, who fell to third.
It was the first time that the top three clubs in the Football Money League have all passed the 500 million euros revenue mark.
Spanish giants Real, who clinched a record-extending 10th European Cup in 2014, were buoyed by an increase in commercial revenues which rose by 22.7 million euros from the previous season.
Although Manchester United slipped down the table, the outlook for the record Premier League winners remains positive.
Tim Bridge, Senior Manager at Deloitte, said their return to Champions League football this season as well as a number of commercial partnerships would only strengthen the business in 2015-16.
"With this in mind, it would not be surprising to see United top next year's Money League for the first time in 12 years," he said in a statement.
Premier League clubs remained the major force in the Money League, nine English teams making the top 20 with revenues totalling 3 billion euros.
Chelsea fell one place to eighth while London rivals Arsenal, who currently top the Premier League, climbed to seventh.
Manchester City and Liverpool were the other two Premier League clubs in the top 10, in sixth and ninth places respectively.
"With the new round of Premier League broadcast deals set to deliver greatly improved domestic broadcast revenues in 2016-17, we expect to see Premier League clubs cementing their places in the top 30 in the coming years, with potential for some of these to climb into the top 20," Bridge said.
Bayern Munich fell from third to fifth place, their lowest position since 2006-07 and were overtaken by Paris St Germain, the only French team in the top 20.
Follow Emirates 24|7 on Google News.