Basement boys Bhutan begin World Cup adventure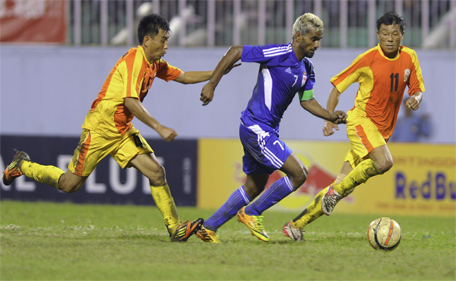 The tiny Himalayan kingdom of Bhutan, officially the worst team in international football, begin their first ever World Cup qualifying campaign Thursday on the balmy shores of the Indian Ocean.

Three years before football's elite do battle at the finals in Russia, Bhutan and their hosts Sri Lanka are among the 12 lowest-ranked teams in the Asian confederation who will kick off the worldwide qualification marathon.

No team from the Indian sub-continent has ever qualified for the finals, a record that seems unlikely to change any time soon despite a growing interest in football in the cricket-mad region.

India and neighbouring Pakistan are joint 171st in the latest Fifa rankings while Sri Lanka are 173rd.

But the dubious honour of propping up the 209-nation league table falls to Bhutan, a remote and mountainous region that has been nicknamed both the 'Land of the Thunder Dragon' and the world's 'Last Shangri-La'.

Trying to adapt to conditions in Colombo, Sri Lanka's palm-fringed coastal capital, will add to the challenges for players more accustomed to a backdrop of snow-tinged peaks.

Thursday's match kicks off at 3:00 pm (0930 GMT) at the Sugathadasa Stadium where temperatures should be around 30-35 Celsius (88-95 Farenheit).

While Bhutan's football federation have begun paying a select group a monthly fee of 10,000 ngultrum (around $160), most players have other jobs or are studying.

One of the few professionals is striker Chencho Gyeltshen who plays for Thai side Buriram United.

Despite their lack of experience, 24-year-old skipper Karma Shedrup Tshering is confident his young team will be able to put up a good show on Thursday against the higher ranked Sri Lankans.

"The world ranking does not matter," he told AFP in Colombo.

"It is just a number. It is not a reflection of our performance, but the (very low) frequency of matches that we have played."

Coach Chokey Nima said the team, whose players range in age from 16 to 28, spent a week training in Thailand to acclimatise.

"Usually you need about two weeks, but we tried to use the one week we had in Thailand in an efficient way to adapt to conditions here," he said in Colombo.

Bhutan has been a member of Fifa only since 2000, registering just three victories since entering the international fold.

Culture shock

The last meeting between the two sides was at the 2013 South Asian Football Federation tournament in Nepal, when Sri Lanka won 5-2.

Bhutan also suffered a 3-0 defeat to Afghanistan and were thrashed 8-2 by Maldives during the same tournament.

Former Sri Lanka captain Ashok Nawgalage said the hosts should swat aside the basement boys given the disparity in rankings, and even questioned whether there was any point in the match.

"There is no point in punching someone who is 36 positions below us," Nawgalage told AFP. "Playing Bhutan is not very useful, even in terms of acquiring experience."

But if adapting to conditions in Colombo will be a challenge for Bhutan, their hosts will face a similar culture shock when they travel to Bhutan's capital Thimpu for a return match on March 17.

The match will be at the Changlimithang National Stadium, one of the most picturesque arenas in international football and which also hosts archery tournaments - the kingdom's national sport.

However, Sri Lanka skipper Chaturanga Sanjeeva said he had no worries about playing in Bhutan and hoped they will be able to win Thursday's match.

"This is a very important match for us to go forward in the game," Sanjeeva said. "We are going all out."

Bhutan was the last country in the world to get television and its debut in the most popular sporting contest is another sign of the end of its traditional isolationism.

Even if Bhutan are one of the first casualties on the Road to Russia, the team are determined to do their country proud.

"I cannot guarantee 100 percent a win. But we'll fight till the last minute," winger Kuenga Gyeltshen told Bhutan's Kuensel news website.

Follow Emirates 24|7 on Google News.