Beckham could bring US-like boost to PSG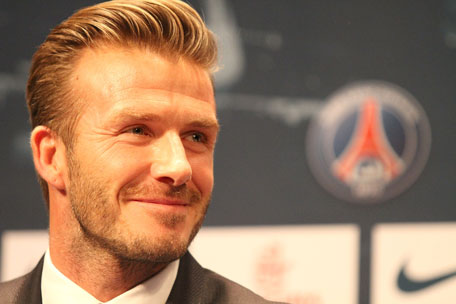 David Beckham gave Major League Soccer a huge boost from his arrival in 2007 to his departure two months ago, raising the US profile of the league and football far above his $32.5 million contract.

Now at Paris Saint-Germain, the 37-year-old former England captain who played for Real Madrid, AC Milan and Manchester United is in position to raise the profile of France's Ligue 1 and notably the team from the City of Light.

Beckham joined the French club last week after leading the Los Angeles Galaxy to the past two MLS titles, the buzz around him having boosted the value of every team in the US league and strengthened the sport's American foothold.

"Seldom does an athlete redefine a sport. David not only took our franchise to another level but he took our sport to another level," said Tim Leiweke, president of Anschutz Entertainment Group, owners of the Los Angeles Galaxy.

And because Beckham's contract included a deal to become an MLS owner at less than the market value he helped create, Beckham might yet return to America as owner of a new or existing club.

"My commitment to the league stays the same," Beckham said. "I still want to be part of this league... My ambition is to be part of the ownership structure in the future."

In his injury-hit first US campaign, 'Beckhamania' saw 300,000 jerseys bearing his name sold, higher attendance and television ratings whenever he took the field and new investors who boosted the league from 12 to 19 clubs.

"There's no doubt that MLS is far more popular and important here and abroad than it was when he arrived," MLS Commissioner Don Garber said. "David has achieved great things on and off the field during his time with the Galaxy."

MLS attendance reached a league-record 18,807-a-game average last season. That's 3,300 fans a game better than when Beckham arrived.

In addition to helping create new teams in such hotbed markets as Seattle and Portland, Beckham helped spark the construction of football-only stadiums for many MLS teams, helping ensure their long-term financial health.

"The foundations are now there for this sport to continue to grow," Beckham said. "I've seen it grow in the last six years and we all want it to continue. My commitment as an ambassador for this sport and this country won't change."

Beckham says European football supporters are more interested in US clubs than before and US clubs are definitely interested in European talent, bringing over veterans such as Frenchman Thierry Henry and Ireland's Robbie Keane in Beckham's wake.

"What have I seen from myself firsthand?" Beckham said. "I've seen the new franchises. I've seen the attendances grow in this league to where they are competing with baseball and basketball. I've seen the quality of players that have come into this league. And we've seen huge TV deals.

"We've also seen the interest and the fact that this league is taken very seriously in Europe and in different parts of the world now. I'm very proud to have been part of that."

While France has no need of awakening football interest, Beckham can boost profits.

Souvenir sales, especially to his huge Asian fan base, have helped offset the cost of every Beckham signing.

Forbes magazine indicated Beckham was a major factor in Real Madrid's huge increase in merchandise sales, which topped $600 million in his four years with the Spanish side - a 60 percent rise within two seasons of his arrival.

And in America, Beckham took a second-tier sport dimmed since Pele's 1970s stint with the New York Cosmos and gave it a new lustre that has boosted US interest in European leagues as well.

"What we were looking for was a long-term partner in building this league, someone committed to working with us in creating more value for everyone," Garber said.

"David has delivered for us on all aspects beyond our expectations. MLS wouldn't be what it is today if David didn't decide in 2007 to come play."

Follow Emirates 24|7 on Google News.