Beckham to attend PSG match at Valencia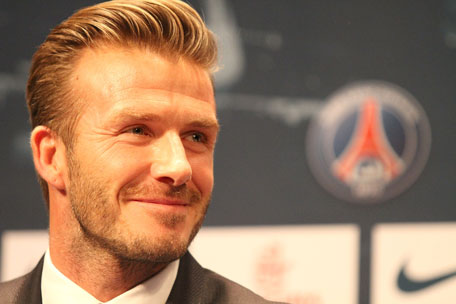 Former England captain David Beckham will join his Paris Saint-Germain teammates for the Champions League trip to Valencia on Tuesday, but will play no part in the last-16, first-leg tie, confirmed coach Carlo Ancelotti.
"(David) Beckham will come tomorrow (Tuesday) to watch the match," said the Italian who is one of the few men to win the European Cup as a player and coach, both times with AC Milan.
Since joining the club on the eve of the transfer deadline, Beckham has been training in London with PSG coaching staff before a swift trip to New York at the end of last week.
While he will play no part in the Champions League tie, he is set to participate in his first full training session with the club on Wednesday, in Paris, and could play a role in the league match against Sochaux on Sunday.
Central defender Mamadou Sakho however will link up with the team and is set to play following the birth of his baby girl.
"Sakho's girl was born today (Monday) and she is called Aida. He will be coming to play either tonight or tomorrow (Tuesday). He will play," confirmed the 53-year-old Ancelotti.

Follow Emirates 24|7 on Google News.