'Best ever' Barca gave us a hiding - Fergie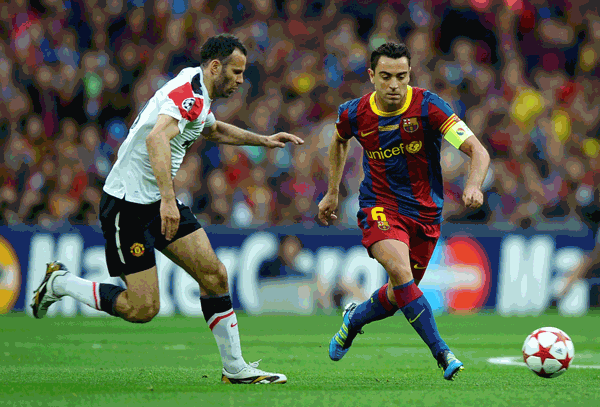 Sir Alex Ferguson hailed Barcelona as the best side he has ever faced after the Spanish giants outclassed Manchester United to lift the Champions League at Wembley on Saturday.
Ferguson said United had been "given a hiding" after the Catalans handed his team a ruthless masterclass in a one-sided final at Wembley, where Pep Guardiola's men romped to a 3-1 victory.
"In my time as a manager I would say yes, this is the best team I've faced," a disappointed Ferguson told a press conference afterwards.
"I think everyone acknowledges that and I accept that. It's not easy when you've been well beaten like that to think in any other way. No one's given us a hiding like that."
Saturday's victory was Barcelona's second triumph in the Champions League in three years - and their third in five years.
Ferguson admitted that Barcelona would be difficult to beat so long as their star players Lionel Messi, Andres Iniesta and Xavi Hernandez remained in their ranks.
"I think that great teams do go in cycles, and I think the cycle they're in at the moment makes them the best in Europe, there's no question of that," he said. "How long it lasts, whether they can replace that team at a certain point, who knows? But they certainly have the philosophy.
"It's always difficult to say whether you'll be able to replace players like Xavi and Iniesta at a certain point. Probably not. But they are enjoying the moment and they deserve to because they play football the right way."
With typical defiance, Ferguson insisted United would be determined to learn lessons from the defeat and seek to come back stronger next season.
He compared the loss to the famous 4-0 drubbing United received from Barcelona at the Nou Camp in 1994, a result which helped redefine his team's approach to European competitions.
"It's not going to be easy, but that's the challenge," Ferguson said. "You shouldn't be afraid of a challenge. The one thing we have shown is that we are consistent in Europe.
"This may be the kind of stepping stone that we had some years ago when we got beaten 4-0. We improved after that and we want to improve after tonight."

Follow Emirates 24|7 on Google News.