Capello's exit shocks Spurs boss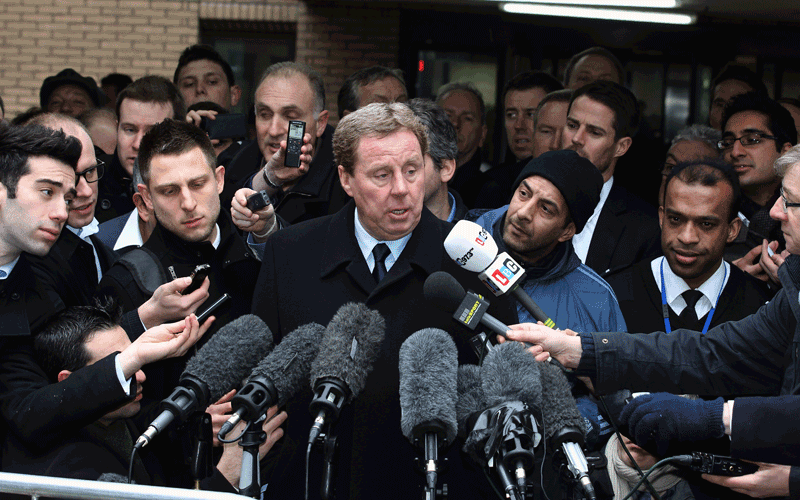 Harry Redknapp will be assured of a hero's welcome when he takes charge of Tottenham Hotspur for their home match against Newcastle on Saturday at the end of an extraordinary week in even his colourful career.
In the space of just a few hours on Wednesday, Redknapp went from being cleared of tax evasion charges that, if proved, could have scuppered his hopes of managing England to being installed as the overwhelming favourite to replace Fabio Capello after the Italian's shock resignation.
The days since have merely fuelled the already popular campaign for Redknapp to take charge of the national side although Tottenham, third in the Premier League and mounting their first serious title challenge for some 25 years, will be desperate to hang on to him until the end of the season at least.
But while speculation mounts as to whether Redknapp will oversee England's Euro 2012 campaign in Poland and Ukraine come June, the man himself insisted his only concern was Tottenham.
"I've never thought about it," Redknapp said of the England job.
"They (the Football Association) will make whatever decision they want to make and hopefully be right for the country.
"It wouldn't be right to focus on anything else other than Tottenham. That's my focus. Tottenham have been fantastic."
Redknapp, who missed Monday's evening goalless draw at Liverpool because he couldn't get away from his trial in time, added he hadn't anticipated Capello leaving before his contract expired following Euro 2012.
The Italian quit in protest at the decision to strip John Terry of the England captaincy because of racial abuse charges, which the player denies and have yet to be fully heard in court.
"I was shocked, I was surprised," Redknapp said. "We knew he (Capello) would leave in the summer (after the Euros). I didn't expect it to happen now."
Tottenham supporters will be hoping the focus on Redknapp, 64, will not detract from the players' performances as the club is very much on course for a second Champions League qualification in three seasons.
Midfielder Scott Parker, formerly of Newcastle, was confident Spurs could get the better of the visitors, who are fifth.
"I'm sure it will be a great game," Parker said. "Newcastle are in good form, they are doing well and it will be tough. We're at home and we look forward to it. We're strong at home.
"Newcastle have got a good squad and a very good manager who is organised and it will be a difficult game, but we'll look to win it."
Magpies manager Alan Pardew has been busy quashing speculation that he might become either Redknapp's White Hart Lane successor or be in contention for the England post.
"I'm quite happy where I am and I want to stay here to finish the job," he said. "We've got a nice little project going here and that's what I'm concentrating on."
As for England, Pardew added: "I am proud to be in that sort of frame, but it's not for me and I will make that quite clear. I am not even in the running as far as I am concerned."
Newcastle forward Leon Best has been ruled out for the rest of the season with knee ligament damage, and Ryan Taylor misses the trip to London with a badly bruised leg.
Cheik Tiote remains absent on African Nations Cup duty with the Ivory Coast while fellow midfielder Yohan Cabaye serves the final match of a three-game ban.
English Premier League top scorers ahead of the weekend's matches:
22: van Persie (Arsenal)
16: Ba (Newcastle)
15: Aguero (Manchester City), Rooney (Manchester United)
12: Dzeko (Manchester City), Yakubu (Blackburn)
10: Bale (Tottenham), Dempsey (Fulham)
9: Adebayor (Tottenham), Balotelli (Manchester City), Bent (Aston Villa), Fletcher (Wolverhampton), Lampard (Chelsea), Sturridge (Chelsea)
8: Chicharito (Manchester United), Defoe (Tottenham), Graham (Swansea City), Helguson (QPR), Morison (Norwich City)
7: Berbatov (Manchester United), Holt (Norwich City), Klasnic (Bolton), Sinclair (Swansea City), van der Vaart (Tottenham)
6: Bellamy (Liverpool), Crouch (Stoke City), Long (West Bromwich), Nani (Manchester United), Pilkington (Norwich City), Sessegnon (Sunderland), Welbeck (Manchester United), Zamora (QPR)
5: Agbonlahor (Aston Villa), Arteta (Arsenal), Johnson (Manchester City), Larsson (Sunderland), Mata (Chelsea), Silva (Manchester City), Suárez (Liverpool), Walters (Stoke City)
Follow Emirates 24|7 on Google News.