Cazorla shines as Arsenal dent Man City's title bid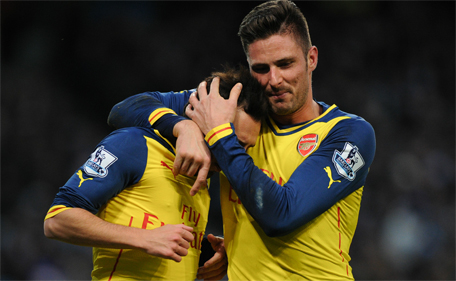 Arsenal ended their away hoodoo against Premier League title challengers with a 2-0 victory at Manchester City on Sunday that left Chelsea five points clear at the top.

Santi Cazorla gave Arsenal the lead from the penalty spot in the 24th minute, after returning City skipper Vincent Kompany felled Nacho Monreal, and Olivier Giroud doubled the lead in the 67th minute with a deft header from Cazorla's free kick.

City included fit-again Sergio Aguero in their starting lineup for the first time since early December but the Argentine was largely anonymous against a vastly-improved Arsenal defence.

The result lifted Arsenal to fifth on 39 points and one behind Manchester United in fourth.

The end of second-placed City's 12-match unbeaten run left them on 47 points to Chelsea's 52 with their next league outing a daunting trip to Stamford Bridge on Jan. 31.

European hopefuls West Ham United earlier revived their push for a top-four finish with a 3-0 victory over relegation-threatened Hull City at Upton Park.

The result sent the Hammers up to seventh with 36 points from 22 games, just four behind Manchester United. Struggling Hull are 18th, level with Queens Park Rangers and two points above bottom-of-the-table Leicester City.

Arsenal were a far tougher nut to crack to the one that lost 6-3 at City last season and Cazorla epitomised a team performance full of hard work and endeavour.

"It's not an easy place to come, and Manchester City have made this a bit of a fortress, but we've done well and got the win. Santi Cazorla was different class," Arsenal midfielder Aaron Ramsey told Sky Sports.

Arsenal were compact, disciplined and resolute as City dominated possession in the opening exchanges.

In the 22nd minute Monreal was blocked by Kompany as he raced onto a one-two with Giroud and referee Mike Dean pointed to the spot. Cazorla nervelessly dispatched the penalty past a despairing Joe Hart. The ease with which Arsenal dealt with City's attacking raid's prompted the introduction of Stevan Jovetic at halftime.

With his arrival City reverted to 4-4-2 and twice went close after the resumption when Aguero curled an effort wide before Jesus Navas' rasping shot was parried by David Ospina.

Navas' teasing cross was then diverted for a corner as City players queued up at the back post.

Just when City's pressure threatened to reach breaking point Arsenal doubled their lead through Giroud who met Cazorla's accurate free kick with a delicate header. City laid siege to the visitors' goal but Arsenal held firm for their first win away at either of the two Manchester clubs since 2010 when they beat City 3-0.

Happy Hammers

With Sone Aluko leading Hull's attack in the absence of a host of first-choice forwards including Nikica Jelavic, the visitors were the better team in the first half at Upton Park but were hindered by poor decision making at crucial times.

Hull's already injury-ravaged squad received another blow when defender James Chester was helped off with a dislocated shoulder.

The second half saw West Ham reassert themselves, with Enner Valencia's speculative shot parried by goalkeeper Allan McGregor and in-form Andy Carroll bundling home the loose ball.

Substitute Morgan Amalfitano then doubled the lead with a delightful chip after 69 minutes.

Three minutes later Alex Song split Hull's defence with a fantastic pass and the reinvigorated Stuart Downing, one-on-one with McGregor, applied a routine finish.
Full-time
Arsenal scored a goal in each half through Santiago Cazorla and Olivier Giroud to register a 2-0 win over Manchester City at the Etihad Stadium on Sunday night.
It was sweet revenge for Arsene Wenger's side who lost to City 6-3 in last seasons corresponding fixture. The Gunners have now moved to fifth spot in the EPL standings, while Manuel Pellegrini's boys remain in second spot on 47 points behind Chelsea who top the table with 52 points.
Arsenal 2 (Cazorla 23" Giroud 66") City 0
90+4" Long whiste goes off and Arsenal have won a big away game.
90" Four minutes of added time given.
87" Kompany header off a Silva corner is just over. City are runing out of time.
83" YELLOW! Aguero is booked.
81" Wenger plays a smart card here making two changes taking out Sanchez and Ramsey and replacing them with Gibbs and Flamini.
78" Jovetic combines with Aguero and Silva to catch Arsenal off guard but his shot is a little wayward.
75" City are desperate and make another change bringing in Dzeko for Navas.
73" At the other end Navas comes up with a poor shot and Ospina is untroubled.
72" Sanchez tries to find the net with a top of the box shot but Joe Hart has no problem parrying it away.
Arsenal 2 (Cazorla 23" Giroud 66") City 0
66" GOAL! Giroud heads home from a free-kick by Cazorla as City defence is caught napping.
65" Rosicky comes in for Chamberlain.
62" Lampard comes in for Fernandinho.
58" Navas' cross goes agonisingly past Aguero in front of goal. Had the Argentine got a foot to it Ospina would have been caught off balance.
56" YELLOW! Bellerin is cautioned.
55" Ramsey makes a mess shoting over after Sanchez and Cazorla broke open the Chelsea defence.
53" YELLOW! Fernandinho is booked for a handball.
52" Sanchez hoowinks Zabaleta but his curling shot is way off the mark.
50" Fernandinho's half volley deflects for a corner which City fail to make it count.
49" Fernandinho to Aguero on the right flank, darts in with the ball and has a powerful shot which is blocked by Ospina.
46" Aguero's angled shot is tipped by Ospina diving full stretch to his right.
45" City make a change bringing in Jovetic for Milner.
Half-time
Arsenal 1 (Cazorla 23") City 0
45+2" Last hope City had to equalise before half time from a corner but it went abegging.
45" Two mnutes of stoppage time added.
43" Another melee in the Arsenal danger area but City are unable to break the shackles.
40" YELLOW! Kompany is booked this time.
38" Lot of comotion in the Arsenal area and the City fans are shouting "come on City" but the Gunners manage to clear it away.
36" YELLOW! Ramsey is shown the yellow card for a bad foul.
34" Clichy passes back to Milner who crosses into the box but Aguero wished he was a little taller as he does get to the ball but his header lacks punch.
30" Both teams have failed to raise the bar in the first half hour.
Arsenal 1 (Cazorla 23") City 0
23" GOAL! Santiago Cazorla scores from the dreaded spot sending his right foot shot to the bottom right corner.
22" Monreal is brought down unintentionally by Kompany in the box. It's a penalty.
20" Fernandinho's long ball to Silva in the box. He heads it towards Aguero but Mertesacker clears it in time.
18" Chamberlain cross and Giroud header from inside the six-yard box deflects off a defender and misses the target. The corner is wasted.
17" Sanchez tries to make a breakaway burst but is blocked.
15" The game seems to be meandering with action restricted to midfield.
10" Cazorla sells a dummy to the City defenders and sets Sanchez through but the Chilean dilly-dallies and loses the ball to Zabaleta.
8" Good ball from Fernando but Aguero is off-side.
5" City are on the offensive as Arsenal make some desperate long-range clearances.
2" YELLOW! Early booking here for Laurent Koscielny after he brought down Fernandinho.
1" Silva shows good dribbling skills in the Arsenal box but is overpowered.
We are 15 minutes away from the action at the Etihad Stadium where both teams are seen limbering up. The focus is undoubtedly going to be on Aguero and Sanchez. But will David Silva spring a surprise?
Manchester City midfielder Samir Nasri has been ruled out for around three weeks with a calf problem, while striker Edin Dzeko is out through injury.
Sergio Aguero and Vincent Kompany will start after being named on the bench last week following injury.
Arsenal defender Mathieu Debuchy and midfielder Mikel Arteta have been ruled out for three months after surgery.
Kieran Gibbs is ruled out with a heel problem and so is Calum Chambers following illness.
Teams
Manchester City: Hart, Zabaleta, Kompany, Demichelis, Clichy, Fernandinho, Fernando, Jesus Navas, Silva, Milner, Aguero. Subs: Sagna, Dzeko, Kolarov, Caballero, Lampard, Mangala, Jovetic.
Arsenal: Ospina, Bellerin, Mertesacker, Koscielny, Monreal, Ramsey, Coquelin, Cazorla, Oxlade-Chamberlain, Giroud, Sanchez. Subs: Szczesny, Gibbs, Rosicky, Ozil, Walcott, Flamini, Chambers.
Stat Attack
Arsenal
Away form this season in the BPL is four wins, four defeats and three draws.
Have won one, drawn one and lost five of the seven matches they have played at the Etihad in all competitions.
Sanchez has scored 19 goals so far this season.
Man City
Have won 6 of their last 7 home matches in the Premier League.
Humbled Arsenal 6-3 in their last meeting
Sergio Aguero has scored 17 goals so far this seaon
Probable Formations
Arsenal: 4-2-3-1
City: 4-2-3-1
Agencies
Home form under Manuel Pellegrini is 25 wins from 29 BPL encounters (W25 D2 L2).
Are unbeaten in their last 12 league matches (W9 D3 L0).
Have conceded at least two goals in each of their last two home matches in the top flight.
Arsenal manager Arsene Wenger has said victory away to Premier League champions Manchester City on Sunday could be a catalyst for a successful second half of the season.
Time for heroes... It's matchday! #cityvarsenal #mcfc pic.twitter.com/Y8gw4kYhC5

— Manchester City FC (@MCFC) January 18, 2015

The Gunners haven't been crowned champions of England in more than a decade and recent title bids have foundered because of a poor record against rival top clubs.
Morning @Arsenal fans - It's matchday! Will @Alexis_Sanchez produce another moment to remember during #MCFCvAFC? pic.twitter.com/hzfVZmPN4U

— Arsenal FC (@Arsenal) January 18, 2015

Since the 2012/13 season, Arsenal have managed just one win in 12 league matches with teams that finished in the top four and last year was especially painful for the north London club, who were overwhelmed 6-3 at City, 6-0 at Chelsea and 5-1 at Liverpool.

They will kick off 11 points behind second-placed City at Eastlands on Sunday but Wenger believes Arsenal's European experience ought to bolster their confidence when confronted with the Premier League's leading clubs.

"We go into a period now where the confidence is important," Wenger said.

"We have big games until the end of the season and this can be a decisive game on that front.

"We believe we can win these games because we have done so in the Champions League many times. We just have to play with a bit more freedom.

"Is it a self-belief? Maybe. We did not perform last year in the top games away from home," added the Frenchman, in charge of Arsenal since September 1996.

"I believe now we are much more stable and we can do it.

"For many years it was our strength but in the last two years, it is true that it has been a weakness. I think we can rectify it."

Defensive cover

Wenger has often been scornful of the January transfer window but he said it would be "risky" not to bring in defensive cover this month given the Gunners' injury problems at the back.

This season the likes of Nacho Monreal, Kieran Gibbs, Laurent Koscielny and Mathieu Debuchy have all been sidelined at different times.

Now Debuchy is expected to be out of action for a further three months after an operation on his right shoulder and his absence leaves Arsenal with only six fit defenders.

"We can cope because we have (Calum) Chambers, (Per) Mertesacker, Koscielny," Wenger said.

"But we have now lost Debuchy who can play centre-back, Monreal who can play centre-back and Gibbs has been out too.

"So if we have another injury or two we will struggle. It is risky (not to sign anyone) -- too risky."

West Ham's Winston Reid and Borussia Dortmund's Mats Hummels have both been linked with a move to Arsenal but Wenger stressed he would not be rushed into a signing just for the sake of bringing in a new name.

"Why have we not signed a defender? We haven't found one. We are not the only ones working on the case," he said.

"It is not a supermarket where you go in and buy a defender... The players who can strengthen the best 10 teams in Europe, you don't find many and it is the same for everybody."

With Arsenal not having won the Premier League since 2004, there are those who believe a move to the Gunners is not as enticing as it once was but Wenger insisted: "We are a big attraction, of course we are.

"If it was easy (signing new players) we would do it.

"We have made enquiries but then you have the second handicap -- who wants to sell their best player, especially a central defender in the middle of the season?

"They say, 'come back in June or July'."
Sanchez

Arsenal will look to in-form Alexis Sanchez when they attempt to repair a sequence of diminishing returns at Manchester City's Etihad Stadium in the Premier League on Sunday.

Sanchez scored two goals and made another in Arsenal's 3-0 home win over Stoke City last weekend, taking him to 12 goals and eight assists for the campaign and moving City manager Manuel Pellegrini to describe him as "the best player in England".

The Chilean's unerring finishing and exemplary work ethic will be central to Arsenal's hopes of success at the Etihad, where fortune has deserted them ever since City were taken over by a Abu Dhabi group in 2008.

In the years since the acquisition of City, Arsenal have won one, drawn one and lost five of the seven matches they have played at the Etihad in all competitions.

Before that, they had won six of their seven previous trips to City.

Their most recent visit, in December 2013, was infamous, as the title aspirations of a team who went into the match top of the table were ruthlessly torn apart in a humbling 6-3 defeat.

Arsene Wenger's side ultimately finished seven points off the pace as City were crowned champions. Ahead of Sunday's game they are 11 points behind City, and 13 shy of leaders Chelsea.

Arsenal's fans have learnt to associate City's new owner with the sight of departing stars, as Samir Nasri, Emmanuel Adebayor, Kolo Toure, Gael Clichy and Bacary Sagna have all left the Emirates Stadium for City in recent years.

But now that Wenger no longer has to weigh the need for new recruits against the cost of building the Emirates, the long-held dream of attracting superstars such as Sanchez to the club has become reality.

Only Sergio Aguero, with 19, has scored more goals this season than the 18 Sanchez has mustered in all competitions and with the City striker in line to make his first start since December 3 after a knee injury, the stage is set for a showdown between the two 26-year-old South Americans.

"There are some other great players, but Sanchez and Aguero are two of the best performing since the start of the season," said Wenger.

"Aguero has been less consistent because he's been injured more — in the last year he has suffered from being a bit in and out — but of course he is a world-class player."

If there is one area where Aguero has the edge over Sanchez, it is his record against the big clubs.

Since joining City from Atletico Madrid in July 2011, the Argentina striker has scored six times against Manchester United, three times against Chelsea, three times against Liverpool and three times against Arsenal, including in the 2-2 draw between the sides last September.

It is too early to compare Sanchez's record to Aguero's, but in the five matches he has played against last season's top six, he has found the net only once.

It is an unwelcome echo of Arsenal's record against the top sides, for since the 2012-13 season, they have won only one of the 12 league games they have played against teams who went on to finish in the top four.

With a trip to Chelsea awaiting in two weeks, Aguero may not start, but he is certain to feature at some point after Pellegrini revealed he was "100 per cent fit".

City midfielder Nasri will be unable to face his former club after sustaining a calf injury, while Yaya Toure and new signing Wilfried Bony are both at the Africa Cup of Nations with Ivory Coast.

Left-back Kieran Gibbs has been passed fit for Arsenal after a heel problem while Theo Walcott and Mesut Ozil are also in contention.

But Arsenal remained beset by injury problems, with Danny Welbeck, Jack Wilshere, Mathieu Debuchy, Mikel Arterta and Abou Diaby all currently sidelined.



Follow Emirates 24|7 on Google News.