Centurion Cole to start against Brazil - Hodgson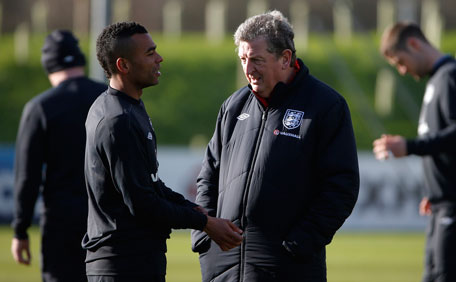 Roy Hodgson has confirmed that Ashley Cole will start in Wednesday's friendly against Brazil, on the night he becomes the seventh player to win 100 caps for England.

Cole, 32, will join Peter Shilton, David Beckham, Bobby Moore, Bobby Charlton, Billy Wright and Steven Gerrard in making a century of appearances for his country.

Current captain Gerrard reached the milestone in England's 4-1 loss to Sweden in November and both men will receive their caps prior to kick-off at Wembley against the five-time world champions.

Asked if Cole will start against Brazil, Hodgson said: "Yes, he will.

"It's important, with Steven here, that they'll be able to go out onto the field together. He (Cole) will start and I'll have to see what I do with Leighton Baines."

However, the England manager dismissed suggestions that Cole would be allowed to lead the team out as captain.

"I don't think there's any reason why the captain should let someone else lead the team out," he told reporters at Tuesday's pre-game press conference.

"You know Ashley does his talking on the football field. He's never pushed himself forward as a potential captain and he's just happy to be a key player.

"I'm pretty certain he won't be trying to rip the armband off Steven tomorrow (Wednesday)."

Cole has not always been popular with England's supporters, but Gerrard says the Chelsea left-back deserves respect for what he has achieved in the colours of his country.

"The fans just need to see what Ashley has given England over the last 12 years - desire, commitment," said the Liverpool midfielder.

"He's given everything in his body to bring England success and he deserves a good reception."

Wednesday's game is the latest step on a road that Hodgson hopes will lead to a successful showing at the 2014 World Cup in Brazil.

Eliminated in the quarter-finals at Euro 2012, England are currently ranked sixth in the Fifa world ranking, but Hodgson says his side can only prove their credentials by performing on the pitch.

"I think the players are confident and we're on the right track," he said.

"We've got good belief that it's within us to achieve our target of qualifying and then keep working together to get that little bit better.

"But to win a tournament, you need a functioning team, a team that has confidence in itself, and you need a few results behind you. To do that, you have to play a lot of games and get that confidence going.

"Let's see what tomorrow brings. We've not chosen an easy task for ourselves, but you sometimes learn more from the difficult tasks in life than the easy ones."



Follow Emirates 24|7 on Google News.