Champions League: Barcelona begin title defence against apprehensive Roma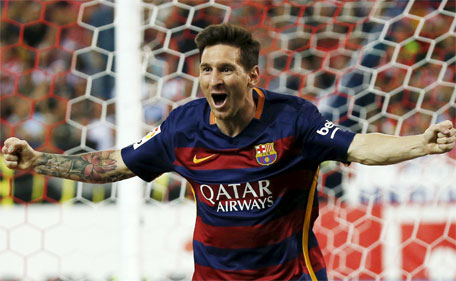 AS Roma supporters may be looking ahead to Barcelona's Champions League visit with some trepidation and coach Rudi Garcia certainly does not seem to be bursting with optimism.

Roma have finished second in Serie A for the last two seasons but still there is still a clear gap between themselves and Europe's top clubs, despite the addition of Edin Dzeko and Mohamed Salah.

Barcelona's visit to the Stadio Olimpico on Wednesday, which kicks off their Champions League title defence, comes just under a year after Roma lost 7-1 at home to Bayern Munich in the same competition.

The Bavarians sliced through the Roma defence almost at will as they scored five goals in a bewildering half hour spell in the first half.

Roma went on to finish third in the group after taking one point in two games off Manchester City while domestically they have come up short in matches against Juventus, with three defeats in their last four league meetings.

With that in mind, Garcia has already made it clear that he would be happy to finish second in a group that also includes Champions League regulars Bayer Leverkusen and Belarus champions BATE Borisov.

"The target in the Champions League is to get past the group stage and to the round of 16," Garcia said in an interview last week with Radio Monte Carlo. "Behind Barcelona, it is an open group."

There was just a hint of optimism when he said: "Everybody is convinced that they will get 18 points, so that implies getting six off us, but sometimes miracles happen in football.

"We've got nothing to lose and we've got to do all we can to upset the odds."

The match takes Barcelona coach Luis Enrique back to the club where he spent an unimpressive season in 2011/12, when Roma were clearly in transition.

The two sides last met 13 years ago, again in the Champions League second group stage, when they drew 1-1 in Barcelona and Roma won the return 3-0 with Luis Enrique in the Barcelona side.

Incredibly, there is one playing survivor from those games - Roma playmaker Francesco Totti who will 39 at the end of the month.

"I want to win at least one title with my captain, Francesco Totti," said Garcia. "I don't know if Totti or the Pope are more important in Rome, but I can certainly say that for Francesco, the Roma shirt is like a second stint.

"He's an extraordinary player, on and off the field, and we are just pacing him in training, but he never asks for any special favours."

Follow Emirates 24|7 on Google News.