Champions League: Barcelona offer Man City toughest test to date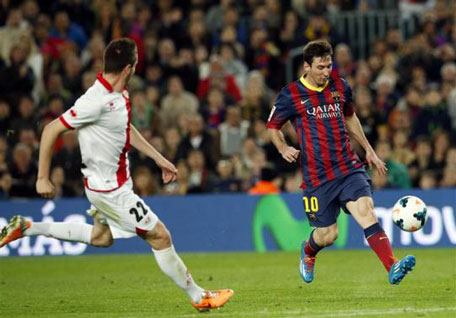 Free-scoring Manchester City will face the toughest test yet of their European credentials when they face European aristocrats Barcelona in the first leg of the standout tie of the Champions League round of 16 on Tuesday.

Both teams will start what promises to be a memorable duel at the Etihad Stadium boosted by superb wins on Saturday, with City returning to their best form in beating Chelsea 2-0 in the FA Cup and Barcelona crushing Rayo Vallecano 6-0 in La Liga.

Both were also boosted by the return of important players after injury.

Samir Nasri came on as a second-half substitute for City after missing seven games and scored City's second against Chelsea within minutes of his arrival while Neymar also returned as a substitute in the second half for the Spanish champions to score a stunning goal after four matches out to complete Barca's scoring.

Neymar is likely to be on the bench at the start on Tuesday, which may offer some relief for the home team, who will probably have to raise their already impressive game to even greater heights if they are to knock out the four-times European champions.

City coach Manuel Pellegrini is well aware of what Barca are capable of from his time with Villarreal, Malaga and Real Madrid in Spain, while City's free-ranging midfielder Yaya Toure spent three years at the Nou Camp and won every major honour with them, including the Champions League in 2009.

In an interview with Champions Magazine, Toure said he expected City to win the first leg to show how far the club have come since the injection of Sheikh Mansour's cash totally transformed them from domestic also-rans to potential European champions.

"Our fans deserve a victory against a big club to show how the club is progressing," he said. "Barcelona are a perfect example, a great club with an exceptional history with players who might currently be the best in the world, like Lionel Messi, Iniesta, Xavi, Pique, Busquets.

"It will be a great match and we really have the desire to show City are on the right track."

City are in uncharted waters as far as the Champions League is concerned, having been knocked out at the group stage in their two previous appearances.

But they are the highest scoring team in this season's competition with 28 goals.

"Our experience from our defeats last year has made us more mature," Youre added.

"We have the players, the manager, but you also need to play against great teams to test your level."

City gave a hint of their growing strength with a 3-2 win away to champions Bayern Munich in the group stage, and they have scored 117 goals in all competitions this season.

PERFECT WARM-UP

The Spanish champions had the perfect warm-up on Saturday when Messi, who looks to be back to his best after returning in early January from a two-month injury layoff, scored twice to overtake Alfredo di Stefano in La Liga scoring history.

Messi's 228 goals in 263 games took him to joint third on the all-time list with Raul, behind Telmo Zarra (251) and Hugo Sanchez (234).

Messi has now scored 337 goals for Barcelona, a record for one club, but has only ever managed one for Barcelona in England - in the 2011 Champions League final against Manchester United at Wembley.

As well as Messi having an outstanding game on Saturday, midfielders Cesc Fabregas and Andres Iniesta turned in scintillating displays and in-form forwards Pedro and Alexis also scored as Barca totally overwhelmed second-from-bottom Rayo at the Nou Camp.

"The victory will help us build confidence for our next few matches, which are going to be very tough," Pedro told reporters.

"We have had some good performances this season but today was one of the best," the Spain international added.

"Tuesday's game against City will be very closely fought, we are both good teams."

Barcelona will also be seeking to end a run of five games in England other than the Wembley final without a win, but even a draw at City could well tip the tie in their favour ahead of the second leg in Barcelona on March 12.
Follow Emirates 24|7 on Google News.