Chelsea and Spurs face stern title tests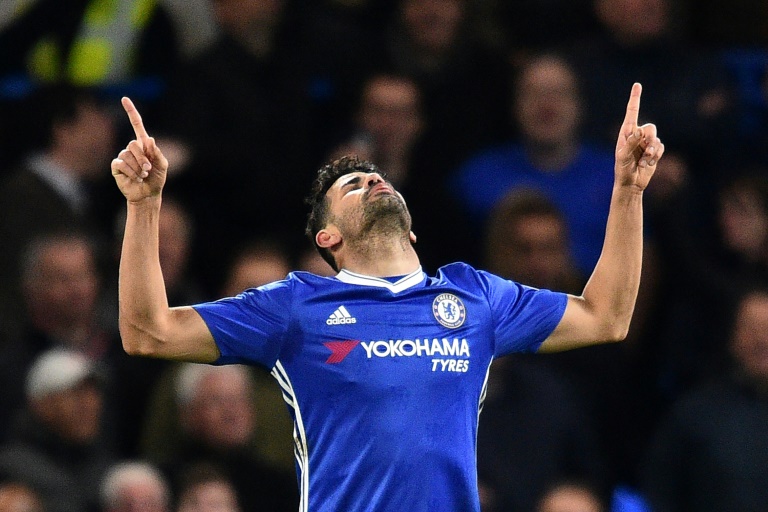 Antonio Conte will hope Diego Costa justifies his faith in having him rather than Everton's Romelu Lukaku as his main striker and deliver another three points in Chelsea's chase for the title on Sunday.
Chelsea face their biggest challenge in their remaining five matches at Everton, who are on a run of eight successive home victories.
However, Conte will hope they extend their lead over rivals Spurs to seven points before Tottenham kick-off in the north London derby with Arsenal later on Sunday.
Arsenal, who are still in the race to try and secure a Champions League spot, five points adrift of fourth-placed Manchester City and with a game in hand, at least have restored some battered morale with two wins this week including a gutsy victory over Manchester City in the FA Cup semi-final.
Both City and fifth-placed Manchester United are also in action on Sunday and would hope to both pick up three points as they play two relegation candidates in Middlesbrough and Swansea respectively.
Conte is adamant he wouldn't swap the temperamental Costa, who has 19 goals to his name this season, including a welcome return to form with a double against Southampton on Tuesday, with Lukaku, who tops the scoring charts with 24.
"As I've said before, for me my players are the best in the world. I wouldn't change my players with any other players."
His Everton counterpart Ronald Koeman was not happy at all with his players' attitude in the goalless draw with West Ham last weekend and is looking for a vast improvement.
"It is always difficult if you have already the seventh position in the pocket and maybe they get a little bit more holiday or end-of-season feeling," said Koeman. "That is what I don't like."
Spurs will be seeking to win the 50th Premier League meeting with Arsenal to keep the pressure on Chelsea.
For Argentine manager Mauricio Pochettino beating Arsenal is necessary not for bragging rights but to keep their dreams alive of winning the title.
"My feeling is now, when you are so close -- only four points the gap -- I will be very disappointed if we don't win the title," said Pochettino.
"My challenge or my aim is not to be above Arsenal. My aim is to be above 19 teams and to be first, to be on the top."
Follow Emirates 24|7 on Google News.