Chelsea not happy to finish fourth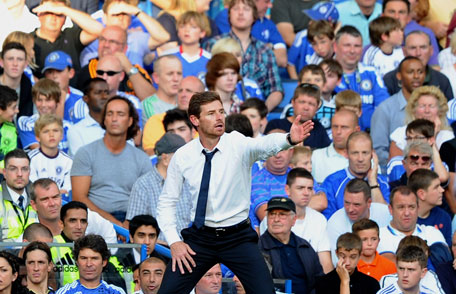 Andre Villas-Boas might have wished something other than a trip to Everton at the end of a week when his position has once again been placed under scrutiny.
The frequent presence of Chelsea owner Roman Abramovich at the club's training ground has prompted fresh speculation the Russian businessman is unhappy at the team's lack of progress this season.
And Villas-Boas himself was moved to reflect on how disappointing it is that the extent of his side's immediate ambitions in the Premier League is to hold onto fourth place.
Last weekend's failure to win after taking a three-goal lead against Manchester United did nothing to lift the mood at Stamford Bridge.
Against such a backdrop, it is no surprise that the visit to Goodison Park has stirred memories of Chelsea's last journey to face David Moyes' side - on the final day of last season - which ended with Carlo Ancelotti being sacked within an hour of the final whistle.
That paved the way for Villas-Boas to be recruited from FC Porto and while nobody expects history to repeat itself this weekend, there is no doubt the young Portuguese is enduring a testing first season at the club.
"The objectives we have for this season are pretty much outlined," the manager said.
"We have two competitions (FA Cup and Champions League) where we look better, and another competition where we have to dilute the damage and try to finish fourth, at least, which is not a very honourable position for the dimension of this club.
"Bearing in mind the rest, we focus on the same and a lot of focus on next year's progress as well."
Villas-Boas also remains unfazed by Abramovich's presence at the club's training base.
"You can speculate whatever you want, but for us it is fantastic to have him here," said Villas-Boas. "It is not distracting, not at all."
Chelsea will again be without skipper John Terry, who is carrying a knee injury but Frank Lampard and John Obi Mikel are fit again while Ashley Cole returns from suspension.
Chelsea have not won on their last two Premier League visits to Goodison Park and Landon Donovan, in his second stint on loan with Everton, wants to turn back the clock two years.
The United States international helped David Moyes's side overcome the Londoners 2-1 during his first spell on Merseyside in February 2010.
Moyes, who celebrates his 10th anniversary in charge of Everton next month, is looking to extend his team's unbeaten run in the top-flight to five games.
"Since the day I got here there has always been the belief this team can compete with any team in the Premier League," said Donovan, who is due to return to LA Galaxy at the end of the month.
"When I was here last time we beat Chelsea, Manchester United, Manchester City and should have drawn at Tottenham - so there is no fear in this club.
"We have a lot of respect for Chelsea, they are one of the best teams in the world, but we feel at Goodison we have a chance and we are going to go for it.
"They've come off an interesting result against Manchester United (with the 3-3 draw) so it will be an interesting game to see how they respond to that.
"We feel good in how we're playing, we like how we're playing right now and our form has been pretty good so it makes for a really good match-up."
Everton, who start the weekend in 11th spot and 13 points adrift of fourth-placed Chelsea, have a doubt over Tim Cahill.
The Australian international was replaced at the interval during his side's 1-1 draw at Wigan last Saturday after sustaining a foot injury.
South African midfielder Steven Pienaar is expected to make his second home debut after re-joining Everton on loan from Tottenham until the end of the season.
English Premier League top scorers ahead of the weekend's matches:
22: van Persie (Arsenal)
16: Ba (Newcastle)
15: Aguero (Manchester City), Rooney (Manchester United)
12: Dzeko (Manchester City), Yakubu (Blackburn)
10: Bale (Tottenham), Dempsey (Fulham)
9: Adebayor (Tottenham), Balotelli (Manchester City), Bent (Aston Villa), Fletcher (Wolverhampton), Lampard (Chelsea), Sturridge (Chelsea)
8: Chicharito (Manchester United), Defoe (Tottenham), Graham (Swansea City), Helguson (QPR), Morison (Norwich City)
7: Berbatov (Manchester United), Holt (Norwich City), Klasnic (Bolton), Sinclair (Swansea City), van der Vaart (Tottenham)
6: Bellamy (Liverpool), Crouch (Stoke City), Long (West Bromwich), Nani (Manchester United), Pilkington (Norwich City), Sessegnon (Sunderland), Welbeck (Manchester United), Zamora (QPR)
5: Agbonlahor (Aston Villa), Arteta (Arsenal), Johnson (Manchester City), Larsson (Sunderland), Mata (Chelsea), Silva (Manchester City), Suárez (Liverpool), Walters (Stoke City)
Follow Emirates 24|7 on Google News.