City favourites to land England-bound Guardiola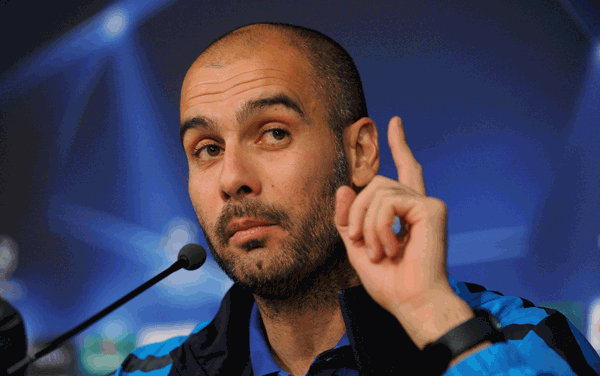 Pep Guardiola admitted on Tuesday that the lure of coaching in the English Premier League was the reason for his departure from Bundesliga giants Bayern Munich at the end of this season.

"I want to coach in England," the Spaniard told a press conference, his first since the announcement on December 20 of his departure and replacement by Italian Carlo Ancelotti.

"I'm still young and I need new challenges," said Guardiola, who turns 45 later this month.

The former Barcelona coach has since been linked with Chelsea after Jose Mourinho was sacked, and also with Manchester City whose own manager Manuel Pellegrini is under contract until 2017.

"I have this possibility to go to England. It's the right time," said Guardiola.

"The only reason I am not renewing my contract is that I am looking for a new challenge.

"I have several offers from England but I haven't signed anything yet.

"If I were 60 or 65 I would've stayed, but I think I am too young. I need a new challenge.

"It was a dream, it is a dream. I am very grateful to Bayern for this huge opportunity."

Spaniard

Chelsea owner Roman Abramovich has reportedly tried to lure the Spaniard to Stamford Bridge in the past and is on the look-out for a permanent successor for Mourinho, with Guus Hiddink in interim charge until the end of the season.

But City are the bookmakers' favourites, with Guardiola having previously worked with City's chief executive Ferran Soriano and director of football Txiki Beguiristain during his time at Barca.

As for United, Louis van Gaal's immediate future seems secure but they could possibly be tempted to replace one former Barca and Bayern boss with another.

Pellegrini has had to deal with recurring speculation linking Guardiola with his position throughout his tenure.

But he was unwilling to comment, stating: "I don't have a reaction about that or feelings on other managers. It is a question I answered two weeks ago when I said no more about that."

Dominant force

Guardiola quit Barcelona in 2012 despite being the most successful coach in the club's history during his four-year reign.

In January 2013 he signed a three-year deal, worth a reported 22 million euros ($24m), to coach Bayern from July that year.

Bayern, already a dominant force having won the treble in 2013 of Champions League, Bundesliga and German Cup under Jupp Heynckes, soon became almost unbeatable at home.

This season, Bayern have lost only two of 26 games and in the last two years swept five trophies, but the most desired, the European Cup, has so far eluded Guardiola during his time in Germany.

Bayern are currently eight points clear of Borussia Dortmund at the top of the Bundesliga with their next game to come at Hamburg on January 22 while they will face Juventus in the last 16 of the Champions League.

Paying tribute to his successor, Guardiola said he hoped that Bayern would understand his decision.

"I hope that (Karl-Heinz) Rummenigge (Bayern chairman) and the staff understand my decision, I'd be sorry if they were disappointed by my choice," he continued, adding that he would discuss the subject "for the first time" with his players during their winter training camp in Qatar starting on Wednesday.

"Carlo is the perfect coach for this team," he added. "I'm sure that all will go well for him and for Bayern."

Liverpool

Former Liverpool captain Steven Gerrard Wednesday said "world-class" Pep Guardiola would be a great addition to the Premier League after the much sought-after Bayern Munich boss said he wanted to coach in England.

"Pep Guardiola is a world-class manager," Gerrard told reporters in Sydney ahead of a Liverpool Legends game on Thursday.

"It's looking like he is going to be coming to the Premier League which is great for us."

Gerrard, clearly a fan of the ex-Barcelona boss, is currently reading "Pep Confidential", a book about Guardiola's first season at Bayern.

The LA Galaxy midfielder, 35, has his own ambitions in management and is working on his coaching qualifications prior to his expected retirement from playing this year.

He said he had a "positive conversation" with current Liverpool boss Jurgen Klopp and was keen to remain involved with his hometown club in any capacity.

Gerrard left the English Premier League side for the Los Angeles Galaxy last year, and has been training on Merseyside during the MLS close season.

"I've been told I've been welcomed back at the club which is great for me because I've been at Liverpool since I was eight years of age. I love the club," he said.

"I certainly had a positive conversation with Jurgen Klopp and he made me feel very welcome when I train with the team."

But Gerrard added that he was aware of the challenges of transiting from playing to coaching.

"I think you see the reason why a lot of top players don't make a successful manager because it's a completely different role," Gerrard said.

"The exciting thing is no one knows how good I'll be... we'll have to wait and see, but I'm certainly going to get as much experience and as much qualifications as I can under me belt and we'll see whether I'm good enough if one day I take the plunge."


Follow Emirates 24|7 on Google News.