City to give Barcelona tougher test - Pellegrini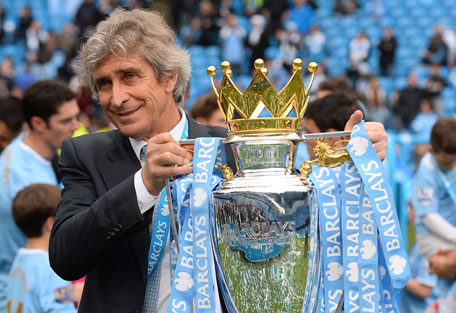 Manuel Pellegrini believes Manchester City are in far better form to take on Barcelona in this season's Champions League than they were when they lost to the same opponents in the competition 12 months ago.

The Catalan club visit the Etihad Stadium on Tuesday for the first leg of the last-16 tie, a repeat of last season's two-legged meeting from which Barca emerged as 4-1 aggregrate winners and City had players sent off in each game.

But, after a 5-0 victory over Newcastle United hauled City to within five points of Premier League leaders Chelsea, Pellegrini claimed that his side will be far tougher opponents in 2015.

"It is better because last year we arrived in February after we played 18 games, nine in December and nine in January," said Pellegrini.

"Of those 18, we won 16 and drew two. I think we arrived not in our best moment. It was important also the sending-off of Martin Demichelis.

"In this year we played less games in January so we will try to continue in the Champions League.

"All the games are different but we are going to try from the beginning as we did today to be an aggressive team and to try and score goals.

"Maybe it is not a normal game because it is 180 minutes so you must try to score but try not to concede. But on Tuesday I am sure you will see our team trying to play in the same way."

Victory over Newcastle came courtesy of two goals from David Silva, a Sergio Aguero penalty, Samir Nasri and a goal from Edin Dzeko, his first since late September.

Bony makes presence felt

New £28 million ($43m, 37.9m euros) striker Wilfried Bony came off the bench as a second-half substitute and his introduction to the City squad seemed to have the desired effect on his fellow forwards who looked in scintillating form -- none more so than Dzeko.

"For Edin it is very important," said Pellegrini of the Bosnian. "Maybe one of the things that happened in January was that Edin was just coming from a long injury and Sergio also.

"Both of them as they have minutes will return to their normal performance. Edin not only scored but worked very well the whole game.

"And I think David already improved a lot, last game also against Stoke he came from an important injury to his knee. Maybe he was not playing 100 percent a few weeks ago but when he is 100 percent he always makes a difference.

"It is always very important for David and the team to have him in good condition."

City could have ended the day 10 points behind leaders Chelsea but their emphatic win over Newcastle was preceded by the leaders surprisingly dropping two home points against Burnley in a 1-1 draw.

The memory of last season, when City overcame a seven-point deficit with six games remaining to pip Liverpool to the title, is still fresh in the manager's mind.

"The experience is always important but last season we had two or three games in hand," he said.

"In this season we now have 36 points more to play for and we must try not to drop points. I think all the teams will drop points from now until the end of the season so we will see which team will drop least points."

For Newcastle and manager John Carver, their aims are more basic.

"We owe our supporters an apology because we have a fantastic following and to concede that early goal is disheartening," said Carver.

"My job now is, do I sulk and start talking behind people's backs? Do the players start talking behind people's backs? I hope not.

"We will have a talk on Monday, air our differences and then take it forward into our next game, with Aston Villa."
Follow Emirates 24|7 on Google News.