Dalglish return adds spice to Old Trafford clash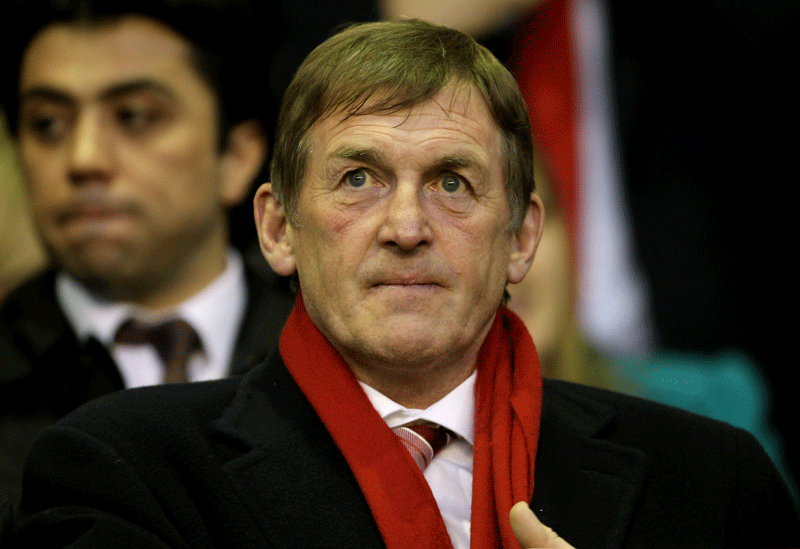 As if Manchester United entertaining Liverpool was not already a tasty enough FA Cup morsel, the arrival of Kenny Dalglish on the scene has turned it into the spiciest dish on the third-round menu.
Dalglish was appointed Liverpool manager on Saturday until the end of the season after the owners pulled the plug on Roy Hodgson after six under-achieving months in the job.
An Anfield hero as a player and manager, Dalglish's return has been greeted with wild rejoicing by fans who were desperate to see the back of Hodgson.
The fact that he has not managed a Premier League club since leaving Newcastle United in 1998 and last picked a team when in charge of Celtic 11 years ago does not seem to have diminished the enthusiasm for his appointment.
"Kenny is an iconic figure at Liverpool, both as a player and manager. He has got unfinished business, no doubt about it," said former Liverpool and Ireland midfielder Ray Houghton.
"I hope he can come in and energise the squad. I am sure he will by his name alone and I think he will put a few smiles on people's faces."
The club's new American owners are now desperate to instill some stability on and off the pitch.
However Dalglish, who returned to Anfield as an academy ambassador last year, will not be taking the job just to do his employers a favour.
He feels the pain of the club's lowly 12th-placed position as keenly as anyone and will be doubly frustrated by Manchester United's dominance at the top of the table.
When Dalglish left Liverpool in 1991 having secured their 18th league title the previous season, United had won it just seven times.
Now the arch rivals from down the East Lancs Road are closing in on their 19th championship and, with three European Cups to their credit, are also eyeing Liverpool's tally of five trophies in that competition.
It is therefore fitting that Dalglish's first game back at the helm, which kicks off at 1330GMT, should be against United and his old enemy Alex Ferguson.
When Ferguson took over at Old Trafford he made it his mission to "knock Liverpool off their perch" but his feud with Dalglish preceded his move south from Aberdeen.
The two men fell out when Ferguson was in charge of Scotland for the 1986 World Cup and cast doubt on the extent of the injury that ruled Dalglish out of the tournament.
Soon after Ferguson took over at United, Dalglish dismissed one of his rival's rants by saying his baby daughters talked more sense, and the duo continued to snipe at each other when the former Liverpool manager took charge of Blackburn Rovers.
However, age and time away from the spotlight has given Dalglish perspective and he has often spoken of how Ferguson offered his help during the dark days following the 1989 Hillsborough stadium disaster in which 96 Liverpool fans died.
Speaking at the launch of his latest book last year, Dalglish said he held his fellow Scot in the highest regard.
"If you had said (at the time) that Liverpool's last title would have been in 1990, you would have been sectioned. But what has happened has happened," he said.
"I couldn't know Fergie would still be here but I did know he was really good at his job."
Ferguson, who played a weakened team in the third round against Leeds United last year and suffered an embarrassing home defeat, is set to send out all his big guns on Sunday.
Liverpool, four points above the relegation zone with one away win all season, are about as far from their old number one perch as they could ever have imagined but Ferguson is not finished with them yet.
The presence of Dalglish in the dug-out as a reminder of how things used to be will have Ferguson's competitive juices overflowing.
Later, though, the two greats will probably make time to share a bottle of the finest red wine as they look back over their extraordinary careers.
Follow Emirates 24|7 on Google News.