Dubai to stage inaugural Matchworld Cup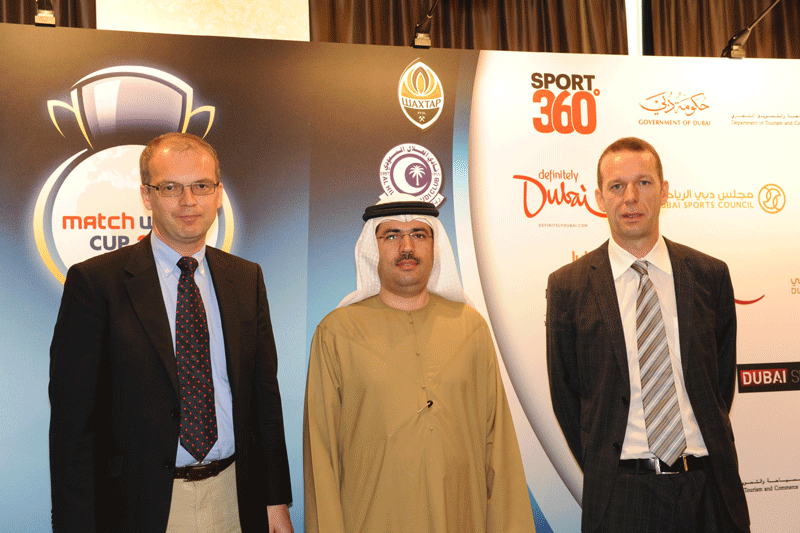 Dubai will stage the first ever 'Matchworld Cup' football tournament featuring six top teams from around the globe from January 20 to 26 at Al Shabab Club's Maktoum bin Rashid Al Maktoum Stadium.
Organised by Matchworld Football SA, a Switzerland-based Sports Marketing Company, in association with Dubai Sports Council (DSC), has attracted teams featuring in the Champions League and two of the most popular teams from the region – Al Hilal of Saudi Arabia and Piroozi FC from Iran.
"The UAE is synonymous with world-class sports tournaments and playing host to major events in every sporting category. The recent Fifa Club World Cup held in Abu Dhabi was just another example of the country's sporting prowess. It was, therefore, a natural choice for us to host this exciting new event in this vibrant, inviting atmosphere," said Marc Biolley, managing director of Matchworld at a press conference in Dubai on Monday.
"The first ever Matchworld Champions Cup will feature world-class players in action and is certain to attract football enthusiasts and resident from across the GCC," he added.
FC Shakthar Donetsk from Ukraine, AC Sparta Prag of Czech Republic, Slovakian champions MSK Zilina and top Russian side FC Zenit St. Petersburg are the other six teams in the competition.
The tournament comprising nine matches will see the sides divided into two groups and playing in a league format before the knockout stage of the event.
"The main reason in organising this tournament was because we were asked by our clients which are top clubs in Europe to organise one high level tournament in preparation for Champions League and Europa league matches during the winter break," said Biolley.
UEFA Cup winners of 2009 FC Shakthar Donetsk and 2008 champions FC Zenit St. Petersburg are the two top teams in this inaugural competition.
FC Shakthar Donetsk beat English Premier League club Arsenal to make the last-16 round for the first time where they will meet AS Roma. FC Zenit St. Petersburg is competing in the Europa League and will be playing BSC Young Boys from Switzerland in the next round.
AC Sparta Prag is up against European giants Liverpool in the Europa League.
MSK Zilina featured in the same group as reigning English Premier League champions Chelsea.
Al Hilal FC has been described as Asia's Club of the 20th Century and decade while Iranian Cup winners Piroozi FC are considered one of the most popular club in Asia.
Asked why no local teams were included in this tournament, Biolley assured they would do so next time as they want to make this an annual tournament in Dubai.
"We want to have this tournament every year in Dubai in future," he said.
Director Marketing and Promotions of DSC Rashid Al Kamali said this tournament underlined Dubai's growing status as a popular sporting destination.
"I thank Matchworld for bringing this event to Dubai which is a unique hub for many international teams. We are proud Dubai can provide facilities required because their standard is very high. We have to respect that and we work towards this standard. So far we have been very successful," he said.
"We are also happy that this event is happening along with Dubai Shopping Festival that will bring many international tourists. Definitely these kind of tournaments is part of our strategy in developing sports tourism in Dubai. We have been planning for the past four years and going for another phase of development in which we hope more international teams will come to Dubai," he added.
Tickets will be on sale from Tuesday at www.timeouttickets.com, TimeOut Box Office and all Virgin Megastores in the country.
Grand Stand tickets are priced at and Dh 50 and Dh100 for one match day.
The tournament will be telecast around the world via Dubai Sports in over 120 countries through sntv and Transworld Sports.
Groups and Fixtures:
Group A: FC Shakthar Donetsk (Ukraine), MSK Zilina (Slovakia), Al Hilal FC (Saudi Arabia)
Group B: FC Zenit St. Petersburg (Russia), AC Sparta Prag (Czech Republic), Piroozi FC (Iran)
Thursday
5pm FC Shakthar Donetsk vs Al Hilal FC
7.30pm AC Sparta Prag vs Piroozi FC
January 22
5pm MSK Zilina vs FC Shakthar Donetsk
7.30pm FC Zenit St. Petersburg vs AC Sparta Prag
January 24
5pm Al Hilal FC vs MSK Zilina
5.30pm Piroozi FC vs FC Zenit St. Petersburg
January 26
2.30pm Final 5th and 6th places
5pm Final 3rd and 4th places
7.30pm Final
Follow Emirates 24|7 on Google News.