England could appoint caretaker for Euro 2012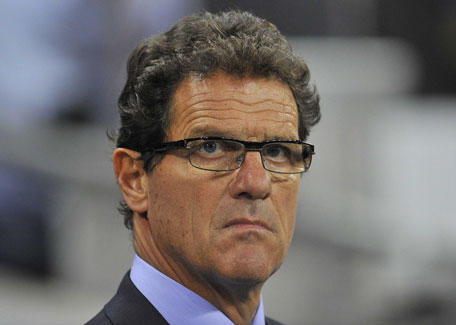 England could hire a caretaker manager to lead them into the European Championships before seeking a long-term appointment after the tournament, Football Association chiefs have revealed.
The shock resignation of Fabio Capello on Wednesday has left the FA scrambling to fill the vacant manager's job with just four months to go until England kick off their Euro 2012 campaign against France.
While Tottenham manager Harry Redknapp is the overwhelming favourite to succeed Capello, FA officials stress they are keeping all options open as they prepare to compile a shortlist of candidates.
Redknapp, who was cleared of tax evasion charges just a few hours before Capello's resignation, has previously indicated he would find it difficult to turn down the England job.
However the 64-year-old is unlikely to leave Spurs during the middle of a successful Premier League campaign which has seen them climb to third in the table and on course for qualification to the Champions League.
Redknapp is also enormously appreciative of the support he has received from Spurs during his trial, where Tottenham officials were ever-present throughout his three-week ordeal at Southwark Crown Court.
In the short-term, Stuart Pearce will take charge of England for their February 29 friendly against the Netherlands at Wembley.
After that, all scenarios are under consideration, suggesting it would be possible for Redknapp to lead England in Poland and Ukraine on a one-off basis before making way for another manager if he chose to stay at Tottenham.
"That is a possibility," FA chairman David Bernstein said when asked if a caretaker coach could lead England at Euro 2012.
"It might not be the case, but all options are open. I'm only talking common sense -- we're not prepared to restrict ourselves at this stage."
Intriguingly, Bernstein also declined to rule out the appointment of a foreign coach to lead England, while admitting the FA's preference was for an English or British manager.
"He might be English, he might be British, he might not be. He might be for the Euros only, he might be long-term," Bernstein said.
"We need to look at all the options because it would be absolutely pointless at this stage limiting our options."
The successful candidate would need to have strong motivational qualities as well as an ability to "handle big players, motivate and excite both the players and the fans," Bernstein added.
FA general secretary Alex Horne meanwhile acknowledged the near-universal clamour for Redknapp but emphasised the governing body would conduct a thorough examination of the available options.
"We of course understand the feeling of the nation," Horne said, without referring to Redknapp by name. "But we've got to sit down and look long term and give ourselves as many options as are available.
"We owe it to ourselves to write up the job brief and make sure we sit down calmly and make sure we've got an exhaustive list."
Adrian Bevington, the head of Club England and FA communications chief, stressed that England were keen to eventually make a long-term appointment with the distant goal of the 2018 World Cup in mind.
"This is a very important moment for us and everyone's focus is on 2012, recruit a manager, go to Poland and Ukraine and achieve success," he said.
"However, there is a longer-term strategy to this as well. In two years' time there is a World Cup in Brazil in 2014, the Euros in France in 2016 and then the World Cup in Russia in 2018. As an organisation we need to make sure we have the platform to achieve success.
"We've got to get out of the routine of just looking at the immediate tournament, or the immediate tournament after that," he added.
The FA's director of development Sir Trevor Brooking warned fans against expecting any new manager to end England's long record of failure in international competitions.
"Let's be a bit realistic here. We've gone nearly 46 years without winning something," Brooking said.
"Of course we want to win big games. But we haven't won a tournament for 46 years, so when you go to this summer, would we be the favourites with or without Fabio? No, because you've got Spain, Germany, Holland.
"We have to get an improvement. But let's not get the expectancy that whoever comes in is going to start delivering championships."
Follow Emirates 24|7 on Google News.