EPL transfer latest: Mourinho's Chelsea war; City's Pellegrini beyond Toure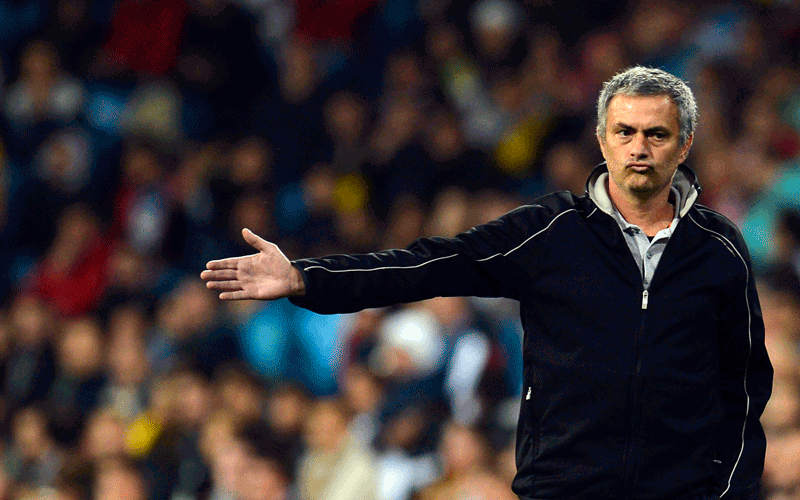 Jose Mourinho ended a self-imposed vow of silence by claiming he and Chelsea are treated differently to everyone else.

Not one to bite his tongue, the Blues manager took himself out of the firing line before and after last weekend's match against Newcastle having been hit by a Football Association misconduct charge.

Mourinho was charged for comments made following the Blues' 1-1 draw at Southampton on December 28, when, amongst other things, he claimed there was a "clear campaign" by "people, pundits, commentators and coaches from other teams" against Chelsea.

The Blues manager resumed his media responsibilities on the eve of Saturday's trip to Swansea, and expressed his belief that officials are being put under undue pressure.

Mourinho said referees need freedom to officiate and that "the reactions and the influence that you can have on their stability to ref this team or that team" is unfair - a wider issue he claims Chelsea are getting a raw deal with.

The Portuguese pointed to the lack of punishment handed to old rival Arsene Wenger after shoving him during October's match as an example, having spoken about what he perceived to be a lack of debate about Manchester United defender Chris Smalling's handball against Stoke.

"Would you think such a penalty against Chelsea would have a reaction in the media and with managers in the same way after that reaction?" he asked.

"I don't think so. After that the reaction would be double or treble, so obviously a referee needs to feel free, relaxed and with no pressure to do the best they can.

"With Chelsea and with me the reactions are different. Do you think if I push a manager in the technical area that I don't have a stadium ban? I have a stadium ban.

"So referees are not guilty, they want to do their best but clearly there are measures and there are ways of reacting and clearly with my club and in relation to myself there are different standards, it's as simple as that and you know that."

Put to Mourinho that his comments can exacerbate such reactions, he retorted: "What do you want me to do when I'm winning against Tottenham 1-0 and I have that penalty for 2-0?

"What I should do after a game like that? Don't go to the press?

"If after Tottenham I don't go to the press, I don't have flash interviews or have to answer your questions about 'why did you lose?', 'how can you lose?', 'what happened?', 'is it a penalty?' - if I can run away from that, it is perfect for me.

"If this press conference today was last week, it would be completely different."

As well as the opportunity to avoid the media, Mourinho would like officials to get more help and suggested referees should be able to watch replays of incidents.

"I want that," Mourinho said. "In which way I don't know, but I think the less mistakes in the game is good for the game and they don't want mistakes.

"I think goal line technology is fantastic. And I promise you every game I play now without goal line technology, Champions League and so on, I am worried before the game because I miss it when it is not there. I am worried."


Pellegrini confident on Yaya Toure

Manchester City manager Manuel Pellegrini is confident his side can overcome the absence of midfield driving force Yaya Toure.

City will be without the influential Toure for up to another four weeks due to his involvement in the African Nations Cup with Ivory Coast.

Toure was sorely missed during the tournaments of 2012 and 2013, and although he has not been at his formidable best this season, his recent form has been good.

Following last week's draw with Everton - the first match of Toure's absence - City have actually not won in the Barclays Premier League without the former Barcelona player since last April.

Pellegrini said: "Of course we are going to miss Yaya because he is a very important player - in the same way that we miss Sergio Aguero, Edin Dzeko, David Silva, or all the players that for different reasons cannot play every week.

"But we have a squad and we have to replace Yaya. We must continue fighting for the title with or without Yaya. We have to play two more games without Yaya and he will arrive here in February. I don't think our team depends just on one player."

In terms of league action, Toure will definitely miss Sunday's return clash against Arsenal at the Etihad Stadium and the January 31trip to title rivals Chelsea.

City have coped without the 31-year-old before, most recently in the Champions League when he missed the vital wins over Bayern Munich and Roma in November and December through suspension.

Toure himself is confident City can come through the spell.

Speaking in an interview while on international duty, Toure told CNN: "I think City can compete without me to be honest with you.

"We get fantastic players and I think you've been able to see when we miss Aguero with injury, we've been able to cope without him.

"When you see we miss Kompany we've been able to cope without him, but at the moment I think we're in good shape."

In the same interview, however, Toure did give further mixed messages about his future.

Toure sparked considerable speculation over his status at City during an unsettled last summer when he voiced criticisms of the club amid the notorious birthday cake saga.

He again cast doubt over his position when asked if he would still be at Eastlands next season.

"I don't know. I'm at City at the moment," he said, before laughing.
Follow Emirates 24|7 on Google News.